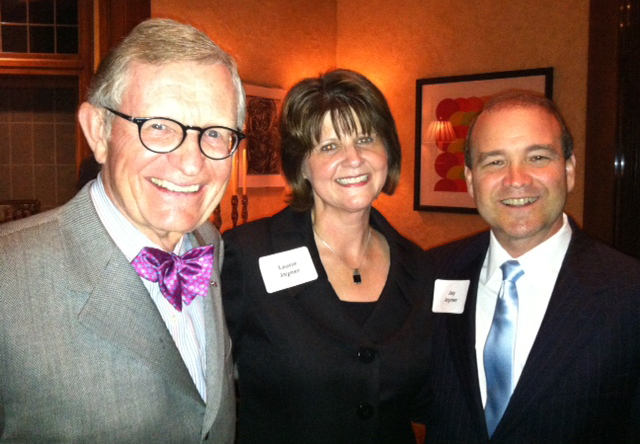 Desiring to welcome Wittenberg's 14th president Laurie M. Joyner to Ohio higher education, The Ohio State University President E. Gordon Gee hosted a special reception in her honor at his residence, Oct. 17, which brought together more than 150 guests with both Wittenberg and Ohio State ties.
During the event, Joyner thanked Gee for his hospitality and presented him with two gifts. The first was a special Wittenberg bow tie to add to his famed collection. The other was a handcrafted ceramic teapot made by Wittenberg Associate Professor of Art Scott Dooley, who has facilitated Wittenberg's popular Empty Bowls program.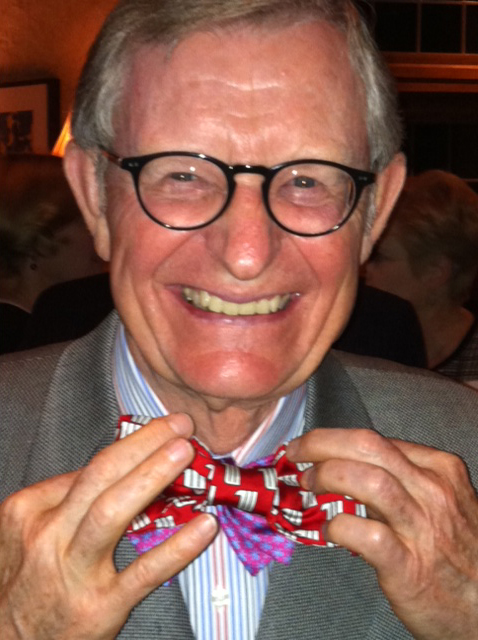 An international grassroots initiative to fight hunger, Empty Bowls first came to Wittenberg's attention in 1994. Since then, Dooley has taken a leadership role in the effort wherein students, faculty, staff and community members join together to create handcrafted ceramic bowls. The bowls are then trimmed, fired and glazed throughout the year in preparation for the annual spring fundraiser. Participants pay for a bowl and then enjoy a soup, salad and bread buffet with all proceeds benefiting the Second Harvest Food Bank of Springfield. In 2012 alone, the event raised $36,000.
Former Congressman Dave Hobson, who was celebrating his birthday at the Gee-sponsored reception, was also recognized by Joyner for his support of the Empty Bowls program. A similar teapot crafted by Dooley was purchased by Ron Pizzuti for whom Gee's residence is named.
Gee presented Joyner with an Ohio State scarf, and the university's all-male a capella group, Buck That, serenaded her.