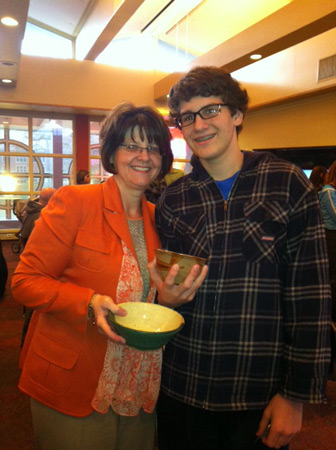 The lines again extended throughout Wittenberg University's Benham-Pence Student Center well before the doors opened for the 19th Empty Bowls fundraiser on March 20, a testament to the beloved community tradition that the event has become. Hosted by Wittenberg's Department of Art and Catholic Social Charities, with support from local sponsors and donors, this year's Empty Bowls raised $41,735 to feed the hungry in the local community.
"This is a $5,235 increase over last year and sets a new record," said Scott Dooley, associate professor of art and department chair, and the facilitator for the event.  "Our previous record was $36,500, and we had set our goal for the 2013 event at $38,000.  Empty Bowls is virtually a 100% profit fundraiser with almost all of the materials, food and time donated for the event." 
Proceeds go to Second Harvest Food Bank, which provides food supplies to the poor and homeless throughout Clark, Champaign and Logan Counties.