Reflecting its Lutheran heritage, Wittenberg challenges students to become responsible global citizens, to discover their callings, and to lead personal, professional, and civic lives of creativity, service, compassion, and integrity. This is part of our mission, and it is reflected in all that we do, including our institutional accomplishments.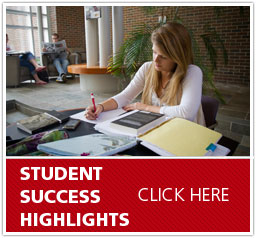 Academic Excellence
Wittenberg ranked fourth in the nation for "Most Accessible Professors" in the 2014 edition of The Best 378 Colleges (Princeton Review).
In 2013 CBSNews.com listed Wittenberg as one of 12 colleges with great professors.
In 2013 Wittenberg was named one of America's Top Green Colleges by the Princeton Review for its "strong commitment to sustainability, its academic offerings, campus infrastructure, activities, and career preparation."
Wittenberg was named by The Daily Beast as one of the nation's "More Overlooked Colleges and Programs" in Spring 2013. Wittenberg earned its spot for "Undergraduate Curiosity."
The 2015 edition of U.S. News & World Report's America's Best Colleges ranks Wittenberg University 139th among national liberal arts colleges.
Wittenberg ranked 11th in the nation for "Best Classroom Experience" and 15th in the category "Professors Get High Marks" in the 2011 edition of The Best 376 Colleges (Princeton Review).
Wittenberg is one of just 280 colleges and universities in the United States to have a chapter of Phi Beta Kappa, the oldest and most prestigious academic honor society in the nation.
Wittenberg University has more Ohio Professor of the Year recipients than any other four-year institution in the state, including three recipients in the past five years.
In 2011 Wittenberg was one of only two private liberal arts institutions to receive a $1 million grant from the highly competitive Robert Noyce Teacher Scholarship Program funded by the National Science Foundation.
In October 2010 The Chronicle of Higher Education, the world's leading news publication in academia, named Wittenberg one of the nation's top producers of Fulbright Scholars among bachelor degree-granting institutions. In the last 13 years, Wittenberg faculty have received 17 Fulbright U.S. Scholar Awards.
Wittenberg was included in the Princeton Review's 2016 edition of the Best 380 Colleges.
Using a research model to predict doctoral production among a sample of 1,279 college and universities, The Higher Education Data Sharing Consortium recently placed Wittenberg at No. 40 in the country. The "Top 50" position indicates that Wittenberg outperforms many large research institutions in the number of doctoral degrees earned by its graduates.
Wittenberg ranks well on U.S. Department of Education's College Scorecard. Students who enroll at Wittenberg University slightly earn more than Ohio State University graduates, while University of Dayton alumni, 10 years after enrolling, earn a median salary of $52,300 - the third-highest among colleges in Ohio. The median salary for Wittenberg graduates is $42,700 with the percentage of those earning above $25,000 six years after enrolling is 68 percent. Wittenberg's graduation rate is above average at 64 percent.
Institutional Excellence
Wittenberg won the 2012 NIOSH College and University Health and Safety Award for the most comprehensive laboratory safety program in undergraduate higher education, placing the university alongside Princeton University, Wellesley College, MIT and Williams College, which previously earned this recognition.
In 2014, Wittenberg University landed the No. 4 spot in the nation following the month-long Forbes' social media campaign, #MyTopCollege. Wittenberg was the only liberal arts university to break the top five.
Wittenberg University ranks high among the best, coming in at No. 13 out of 30 schools in Ohio as Best Value Colleges and Universities according to October 2015 article by Iris Stone, BestValueSchools.com.
Wittenberg ranked 26th among Dayton-area graduate schools.
Service Excellence
Wittenberg's efforts in the area of community engagement have been recognized nationally for five consecutive years (2006-2010) on the President's Higher Education Community Service Honor Roll for exemplary service efforts. The university landed on the national honor roll again in 2013 and 2014, thanks to continuing engagement efforts spearheaded by the Hagen Center for Civic & Urban Engagement.
Washington Monthly ranked Wittenberg University 89th overall among liberal arts colleges and 14th in percentage of alumni who serve in the Peace Corps (2006).
Athletic Excellence
Wittenberg's volleyball team earned the NCAA Division III National Championship in 2011.
The Tiger football team became the first NCAA Division II or III program to reach 700 all-time wins in 2011, placing Wittenberg with some of the most storied college football programs, including Ohio State, Michigan, Alabama and Notre Dame.
The men's basketball team leads the NCAA Division III list of all-time victories.
The university finished 56th out of more than 440 NCAA Division III schools in the 2014-15 Learfield Sports Directors' Cup.
The NCAC Presidents' Council, including Wittenberg University President Laurie M. Joyner, Ph.D., earned the inaugural Award for Diversity and Inclusion from the NCAA and MOAA.
Two-time recipient of the Jostens/National Association of Division III Athletic Administrators Community Service Award
New Classroom and Facility Space on the Horizon for Wittenberg - The Wittenberg Health, Wellness & Athletics Complex is an investment in the future of Wittenberg University and our local community. The combination of outstanding academic programs, competitive athletics and diverse recreational opportunities are so vital to Wittenberg University. This new facility will allow growth at the school and in Springfield. Student success and retention is at the heart of the new initiative.
Wittenberg's Women's Volleyball team finished the 2015 season ranked second nationally and were runners-up in the NCAA Division III tournament after falling to California Lutheran University of Thousand Oaks, Calif. The Tigers turned in a remarkable 29-3 season.
Senior wide receiver Corey Stump (Lima, Ohio/Central Catholic), class of 2016, was named to the 2015 CoSIDA Academic All-America Division III Football second team selected by the College Sports Information Directors of America (CoSIDA), the organization announced Dec. 1.
Senior women's volleyball player Kara Seidenstricker (London, Ohio/Jonathan Alder), class of 2016, was named to the 2015 CoSIDA Academic All-America Division III volleyball first team, released Tuesday by the College Sports Information Directors of America (CoSIDA). The announcement makes her the first three-time Academic All-America honoree in Wittenberg history.
Aesthetic Excellence
Wittenberg University's Weaver Chapel has been ranked No. 9 on the list of "The 30 Most Beautiful College Cathedrals" by Best College Reviews.

The Community Beautification Committee (CBC) of Springfield presented Wittenberg University the Business of the Year Award for dedicated and outstanding beautification efforts throughout the year on campus on Oct. 11 at Courtyard by Marriott in downtown Springfield.