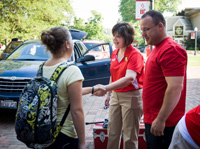 With the new academic year just days away and a new president at the helm, the Wittenberg community joins in welcoming the class of 2016, in celebrating the university's student-centered mission, and in sharing the institution's story one action at a time. 
By 8 a.m. Thursday, vehicles filled to capacity lined the streets of campus as 538 new students prepared to experience the university's active and engaged atmosphere for the first time, Aug. 16.
Greeted by a sea of orientation assistants, as well as faculty and staff members, the class of 2016 and their parents watched as belongings were rapidly unloaded, and teams of movers ensured their safe arrival in their assigned rooms during the annual move-in day for new students.
For President Laurie M. Joyner, who began her tenure on July 1, the energy surrounding this first day of New Student Days not only proved invigorating but also offered time for reflection.
"We often talk about one's calling at Wittenberg, and we clearly articulate what that means in our mission and values," Joyner said. "In essence, we 'encourage all students to discern their vocations and to understand the meaningful connection between self-fulfillment and service to the world.' That journey, I believe, begins from the first moment students arrive on campus. Today their journeys began, not alone but within a dedicated community of learners."
As each activity scheduled for students and families commenced Thursday, the story of Wittenberg was uniquely revealed, not only in words, but also in actions.
From a gathering of all faiths in Thursday's inter-denominational worship service, where Joyner briefly discussed how Wittenberg's Lutheran heritage allows students to explore the faith-and-learning relationship, to Opening Ceremony remarks from Joyner, and faculty, student and alumni representatives, to the multiple smiles shared between employees and future graduates as they fully engaged in conversation, students and their families witnessed the university's whole-person approach to education firsthand.
"Students are the reason we all work at Wittenberg, and every action, every high-impact practice at the university plays a critical role in our students' success," Joyner said. "My sincerest thanks go to everyone involved in New Student Days, and to everyone who reaches out to make a difference in the lives of our students."
Written by: Karen Gerboth '93
Photo by: Erin Pence '04