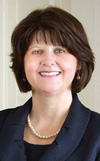 From cell phone calls to colleagues shortly before her flight to Springfield to setting up her home office at the Benjamin Prince House upon arrival, Laurie M. Joyner, Ph.D., has jumped right into her first presidency – one that will be founded upon Wittenberg's mission and a commitment to student success.
As President Joyner moves into her second floor office in Recitation Hall, she does so with students squarely in mind. 
"One of the many factors that attracted me to Wittenberg was my sense that this community is truly student-centered," she said. "One way I can honor this strength is by connecting with students to understand their needs and celebrate their successes. The only way to do this well is to remain in dialogue with them on a continuing basis."
During her time at Rollins, Joyner hosted "Dominoes with the Dean" in the university's residence halls, held breakfast meetings with every athletic team and their coaches in the Sports Center, and regularly attended as many student events as possible. She plans to engage in similar ways with students at Wittenberg to build strong relationships with them.
"I think it is important for the president, in particular, to create all sorts of opportunities to interact with different segments of the student population," Joyner said.  "It's also important to me that all students really feel they are a critical part of the life of the university community."
Toward that end, Joyner plans to hold open office hours to allow students the opportunity to share their ideas, concerns, hopes and dreams with her.
"You will often hear me say that students are the reason I do this work," she said. "I want students to feel very comfortable coming to me and interacting with me directly."
She also wants them to succeed on every level.
"I am deeply committed to delivering on the promise of a Wittenberg education to help students discover their passion, pursue fulfilling work and create meaningful lives," she said. "Seeing how our graduates use what they have learned here throughout their lives is one measure of our success as a university."  --Karen Gerboth