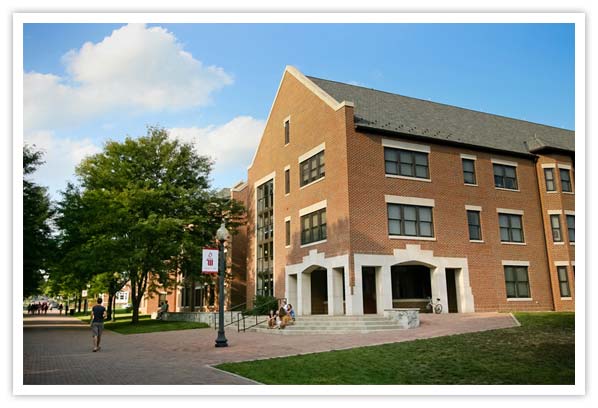 Wittenberg's state of the art residence hall opened in 2006 and houses 194 students on the corner of Alumni Way and Cassilly Street. The three-story hall sits next to the Benham-Pence Student Center and has 49,249 square feet of living space and 157 rooms. New Residence Hall is a co-ed mixed class year residence hall. If you choose to live in New Residence Hall, please note that the cost is $250.00 more per semester than the other residence halls.
2016-2017 Room Rates (per semester)
Double room (per person): $2,829
Single room:  $3,245
NOTE:  Single rooms are only available for returning sophomore - senior students (subject to availability)
Virtual Room Tours
Floor Plans
NOTE: Single rooms are available only for returning sophomore - senior students
Hall Amenities
Thirteen Lounge Areas
Two Technology Labs
Seminar Room
Vending Machines
DVD Player
Cable and Internet access in every room
Laundry Facilities (each floor)
2016-2017 New Hall Staff
Area Coordinator - Dennis LoConti
Resident Advisors

1st Floor, Room 124 - Lane Schlicher
1st Floor, Room 144 - Cassie McLean
2nd Floor, Room 210 - Bryce Bailey
2nd Floor, Room 224 - Taylor Roell
2nd Floor, Room 255 - Chelsea Steffes
3rd Floor, Room 310 - Alex Brenner
3rd Floor, Room 324 - Abigail DeVantier
3rd Floor, Room 355 - Claudia Scully
Student Mail Information:
Please Note: Your full name and campus box number must be included on all incoming mail/packages ensuring timely delivery and to avoid unnecessary delays. Your mailing address will differ depending on the method that mail/packages are sent.
Mail/Packages sent via regular postal mail service:

Student's full name
Wittenberg University, Box ______
P.O. Box 6100
Springfield, OH 45501-6100

Mail/Packages sent via FedEx or UPS:

Student's full name
Wittenberg University, Box ______
734 Woodlawn Avenue
Springfield, OH 45504