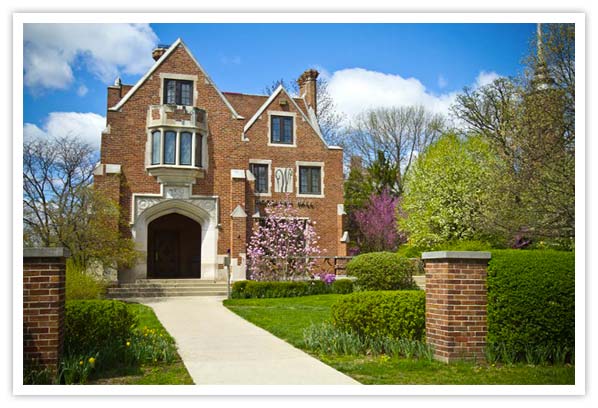 Woodlawn Hall houses 102 female residents on four floors. Woodlawn is the only all-female hall. Located conveniently across the street from the Benham-Pence Student Center and Thomas Library, Woodlawn offers easy access to meals, evening programming and academic resources. The residence features all new beds that were purchased in the summer of 2012.
2016-2017 Room Rates (per semester)
Double room (per person): $2,579
Single room: $2,995
Triple room (per person):  $2,579
Quad (per person):  $2,579
*Single, Triple and Quad rooms are only available for returning sophomore - senior students (subject to availability)
Virtual Room Tours
Floor Plans
NOTE:  Single, triple and quad rooms are available only for returning sophomore - senior students
Hall Amenities
Informal T.V. Lounge
Computer Lounge (3rd Floor)
Laundry Facility
Pool table
Microwave
Vending Machines

Cable and Internet access in every room
2016-2017 Woodlawn Hall Staff
Area Coordinator - Dennis LoConti
Community Advisor - Mary Bechler (2nd floor apartment)
Resident Advisors

1st Floor, Room 108 - Anna Fox
2nd Floor, Room 209 - Meagan Tanner
3rd Floor, Room 306 - Olivia Zink
3rd & 4th Floor, Room 11 - Rebekah Sattler
Student Mail Information:
Please Note: Your full name and campus box number must be included on all incoming mail/packages ensuring timely delivery and to avoid unnecessary delays. Your mailing address will differ depending on the method that mail/packages are sent.
Mail/Packages sent via regular postal mail service:

Student's full name
Wittenberg University, Box ______
P.O. Box 6100
Springfield, OH 45501-6100

Mail/Packages sent via FedEx or UPS:

Student's full name
Wittenberg University, Box ______
734 Woodlawn Avenue
Springfield, OH 45504