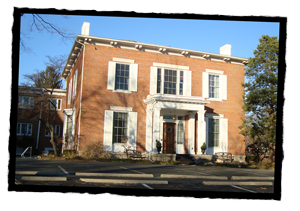 The Campus Ministries House is a welcoming community built on Christian principles, with an emphasis on self-governance. Residents participate actively in house programs and help decide how the house functions.
This unique opportunity is open to any and all juniors and seniors who want to live in a fun, engaging community of students with similar faith interests.
Wittenberg pastors collaborate with the house in Campus Ministry initiatives in an advisory role. The house is managed by an Area Coordinator from the Office of Residence Life and a Community Advisor who facilitates regular house meetings, aids in building and maintaining the house community, manages work orders and communicates regularly with campus pastors. Potential new residents should demonstrate a passion for campus ministries.
Qualifications:
Junior Status (60+ credits)
Commitment to be involved in the CM House community
Attend weekly house meetings
Sign living unit agreement
Completed application submitted by the deadline

APPLICATION DUE FEBRUARY 17, 2016
| | | | | | | | |
| --- | --- | --- | --- | --- | --- | --- | --- |
| Name of Unit | Bed | Bath | Gas | Elec | Non-Smoking | Available/Renewed | Sem. Payment |
| Campus Ministries House | 16 | 2 | Y | Y | Y | UNAVAILABLE | 3,366 |
Floor Plans
House Amenities
All Single Rooms
Kitchen
Dining Room
Large TV Lounge
Group Study Space
Basement Lounge and Multi-Purpose Room
Full-sized refrigerator and microwave
Cable and Internet access in every room
Laundry Facility
Housekeeping Services in Common Areas
Campus Ministries House Staff
Area Coordinator - Brian Richardson, Jr.
Community Advisor - Christopher McCoy '16
Mailing
Mail/Packages sent via regular postal mail service:

Student's name
Wittenberg University , Box ______
P.O. Box 6100
Springfield , OH 45501-6100

Mail/Packages sent via FedEx or UPS:

Student's name
Wittenberg University , Box ______
734 Woodlawn Avenue
Springfield , OH 45504