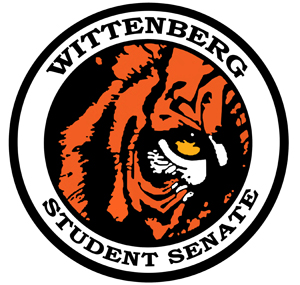 Giving voice to incite growth and progress
Who We Are:
Student Senate is a group of students elected and representing various constituencies on campus. The group includes an executive committee (elected at-large among the entire student body), as well as class presidents, and senators representing large groups such as Greek and non-Greek students,students living on or off campus, student athletes, international students, and many others. The group serves as Wittenberg's student government, and actively supports Wittenberg as the liaison of students to the administration, and vice versa. Finally, Student Senate is active in bringing student's concerns to fruition, and supporting their views as their voices on campus.
Stay up to date on all things Student Senate by liking Wittenberg Student Senate on Facebook and by following @wittsenate on Instagram and Twitter! 
Contact our office at (937) 327-6117
Meetings:
Student Senate meets every Tuesday at 7:00 p.m. in the Student Senate office located in the lower level of Shouvlin. All meetings are open to members of the Wittenberg community.
Student Senate Weekly Minutes:January 17, 2017
Student Senate Meeting Minutes Archive
Senate News:  
General Election Packets will be released February 27, 2017
Congratulations to the new officers for the Class of 2020:
President: Irene Torres
Vice President: Molly Speyer
Treasurer: Moriah Henderson 
Secretary: Maya Kraus
Student Senate will be live streaming our weekly meetings every Tuesday on our livestream account!