The Wittenberg Review of Literature and Art is a student-run publication that has featured our peers' best writing and finest art since 1976. We are one of many creative outlets on campus, but we are the only one geared especially toward creative writing and art. Submitting work encourages students to evaluate how their work will appeal to a wider audience.  Interested students may submit any type of creative work. Our anonymous submission evaluation process involves discussion and ranking of each individual piece, giving each writer equal consideration. The literary staff is comprised of a number of students who wish to use their reading and critical thinking skills in a new way. The staff is also responsible for collaborating with a local printing company to design each issue. Being a part of the Witt Review staff is a great learning experience and resume booster, to be sure, but it is also a lot of fun. We are given a unique opportunity to evaluate and publish writing such that it becomes a reflection of the strongest work produced by Wittenberg students.
What to submit:
Poetry, short fiction, plays, and art of all types--done either for a class or for your own enjoyment.
How to submit:
Please use our online submission form.
When to submit:
We shall have announcements during the fall regarding submission dates.
2016 Editor: Kate DeVantier
Design: Hannah Hunt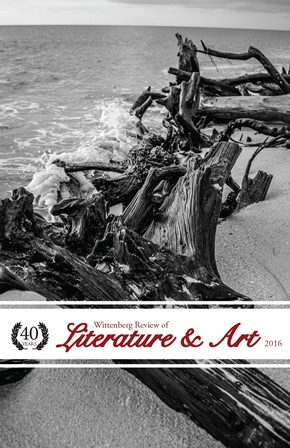 2016 Issue Coming Soon!