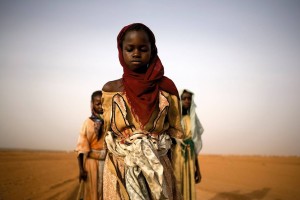 Published Feb. 3, 2012
Springfield, Ohio – Wittenberg University presents two gallery exhibitions of the works of award-winning photojournalist Ron Haviv, who has produced some of the most important images of conflict and other humanitarian crises that have made headlines since the end of the Cold War.
The first show, titled "Not In Our Name: Images of Our World from 1989-2012," runs from Saturday, Feb. 11, through Saturday, March 17, in the Halley Gallery, Springfield Center for the Arts at Wittenberg University, 107 Cliff Park Road. The show will include a retrospective of his work, including photographs and video. The second show titled "Haiti, January 23, 2010" includes his recent photographs from Haiti, and will be available from Monday, Feb. 13, to Friday, March 30, in The Ann Miller Gallery, Koch Hall.
With a special focus on exposing human rights violations, Haviv has covered conflict and humanitarian crises around the world, and he documented the aftermath of September 11, the war in Afghanistan and the overthrow of Saddam Hussein in Iraq. Most recently, he has documented wars in Darfur and the DR Congo.
A co-founder of VII, whose work has been published by Fortune, The NY Times Magazine, Time and Vanity Fair, among others, Haviv has published two critically acclaimed collections of his photography – Blood and Honey: A Balkan War Journal, and Afghanistan: On the Road to Kabul. He also has contributed his wide-ranging body of work to several other books.
Haviv has earned awards from World Press Photo, Pictures of the Year, Overseas Press Club, and the Leica Medal of Excellence. He regularly lectures at universities and seminars, and numerous museums and galleries have featured his work, including the United Nations, The Louvre and The Council on Foreign Relations.
He will conduct a Wittenberg Series-sponsored Visual Artist Residency on campus from March 13-15 to work with students. The residency includes a Wittenberg Series Gallery Talk and reception at 7:30 p.m. Wednesday, March 14, Bayley Auditorium. The residency is presented with support from WDPR 88.1 FM.
Wittenberg students, alumni, staff and faculty members have free admission to the Springfield Museum of Art at Wittenberg University, and admission is free to the public on Sundays. The Ann Miller Gallery is free and open to the public from 9 a.m.-5 p.m. Monday through Friday.
Written By: Phyllis Eberts