Published Feb. 14, 2013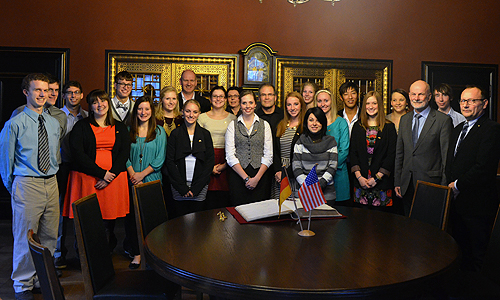 The latest group of Wittenberg students studying in Germany through the Wittenberg in Wittenberg program gather around a table with the Lord Mayor to sign a book of visitors that dates back hundreds of years.
Springfield, Ohio – Wittenberg University students will lead a discussion about off-campus study in such far-flung locales at Chile, Germany, Cuba and China at 6:30 p.m. Thursday, Feb. 21, in 105 Joseph C. Shouvlin Center for Lifelong Learning, 737 N. Fountain Ave.
The presentation is part of the annual Global Education and Peace Network Speaker Series, a monthly program that raises awareness of global and local ethnic cultures while building bridges of intercultural understanding. All Global Education Speaker Series programs take place in Wittenberg's Shouvlin Center, and they are free and open to the public.
The theme for the 2012-13 Global Education Speaker and Peace Network Speaker Series is "Talk to Me: Let's Come Together," which features dialogue about different cultures found both in Springfield and throughout the world. Members of Wittenberg's faculty, staff and students have spoken at programs in the past, and John Young, the university's director of multicultural student programs and an adjunct professor of political science, is the featured speaker on Thursday, April 11. The title of his presentation is "How to Discuss Issues Surrounding Race, Ethnicity and Gender."
The Global Education and Peace Network organized in response to Study Circles, which discussed reactions and responses to the events of Sept. 11, 2001. The monthly speakers series includes presentations by community members focused on issues of local and global importance that give citizens an opportunity to consider their role in a democracy to build a better world.
For more information, contact Nancy Flinchbaugh, fair housing/mediation coordinator for the City of Springfield's Community Development Department at (937) 324-7696.
Written By: Ryan Maurer
Community Events
Student Activities
Students To Lead February Global Education Speaker Series Program