Published Feb. 19, 2013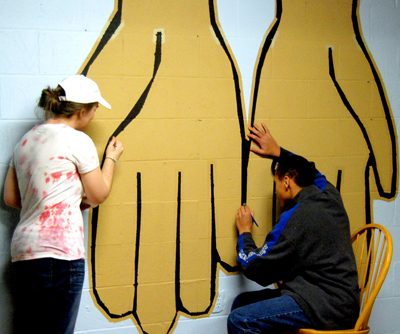 Springfield, Ohio – For Maggie McKune, class of 2014 from Louisville, Ky., becoming a part of the Wittenberg University community was as easy as connecting with Springfield, which is a bit more colorful today thanks to her efforts.
As a Community Engagement Scholar through Wittenberg's Susan Hirt Hagen Center for Civic and Urban Engagement, McKune volunteers regularly with the Rock of H.O.P.E., a local organization for middle and high school youth. She has gained as much from the experience as the children involved in the organization.
"Through the scholarship program, I was able to connect with the Rock of H.O.P.E. and really become a part of the Springfield community," McKune said. "It allowed me to get out of the 'Wittenberg Bubble' and not just enjoy life on Wittenberg's campus but also life in Springfield.
"Through spending time with the students and my peers in the scholarship program, I've been able to see both on and off campus how serving the community is an integral part of the Wittenberg experience."
McKune has served at the Rock of H.O.P.E. since her freshman year. The scholarship program and her resulting service experience have made her feel at home at Wittenberg since the start of her collegiate career.
"Service is such a huge part of the culture at Wittenberg," McKune said. "At the Rock of H.O.P.E., I was able to meet other Wittenberg students who shared a passion for service. Through the Community Engagement Scholarship Program, I am able to reflect on my service with other scholars, get to know them, and participate in events sponsored by the Community Service program."
As a part of the Community Engagement Scholarship Program, McKune has been challenged to think about how she could work with her service site to "go deeper" and create a lasting impact. McKune then came up with the idea of creating a mural at her service site.
"I had spent time with the kids at the Rock and I knew that I wanted to do something that would challenge all of us to become more intentional about the impact we make," she said.
McKune worked with students at her site to create the mural, which showcases two hands designed to symbolize service to others, the words "I serve God with these hands" and the Bible verse 1 Peter 4:10, which reads, "As each has received a gift, use it to serve one another, as good stewards of God's varied grace."
The mural was designed based on a sketch done by McKune and students at the Rock of H.O.P.E., which McKune then re-drew to transfer to a projector and then sketched. Students also assisted painting the mural, and they will use it as part of a devotional in the coming year.
"None of this would have been possible without the Community Service Scholarship program," McKune said. "They challenged me to really see how I could impact the community and supported me in following through in that challenge.
Written By: Ryan Maurer
Community Events
Community Service
Community Engagement Scholar Brightens Community With Mural