Published Mar. 8, 2013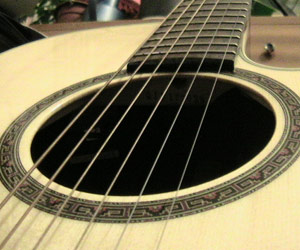 Springfield, Ohio – Wittenberg University Center For Music Development (CMD) offers spring music enrichment classes for all ages beginning the week of March 18. Pre-registration is underway, and pricing includes registration fees for the eight-week classes, which will be held in Krieg Hall at the corner of Ward Street and Woodlawn Avenue.
Appreciating Great American Pop Standards: 1920-1960 aims to enhance enjoyment of the greatest songs created during the Golden Age of a distinctively American musical form known as the Great American Songbook. Students will listen to numerous examples from the "big six" composers and their collaborating lyricists and will analyze selected pieces for their musical and lyrical structure. Composers include Berlin, Gershwin, Kern, Porter, Rodgers, Mercer and others. Emphasis will be on romantic love ballads and the various approaches, past and present, to the subject. Students will consider how the Songbook form developed and how it relates to such forms as ragtime, folk and rock. A basic reading knowledge of the treble clef is the only requirement for participation. Classes meet 6:30-8 p.m. on Thursdays from March 21-May 2, and one additional class will be announced later. Paul Parlato, Ph.D., Dean Emeritus of the Wittenberg School of Community Education will provide instruction in Room 302 Krieg Hall. The cost is $50.
Beginning Guitar Class teaches students to execute notes, rhythm and harmony. Students need to bring their own instrument and a blank manuscript book. Classes meet from 6-6:45 p.m. on Tuesdays from March 19 - May 7, in Room 229 Krieg Hall with Janet Ogg instructing. The cost is $100.
Start-Up Piano Class For Ages 12–Adult teaches students to read music, musical notation, rhythms and vocabulary in a state -of-the-art piano lab. The textbook, The Older Beginner Piano Course WP 32, by James Bastien, is required for the class. Students may choose to attend either the Wednesday or Friday classes, which will be held from 7-7:45 p.m. Wednesday, March 20-May 8, or Friday, March 22-May 10 in Room 301 Krieg Hall with Jack McPeek instructing. The cost is $100 for one class per week.
Beginning Piano For Elementary Age Students, Grades K-6 offers piano lessons in a small group setting to teach children to read music and musical notation, find keyboard landmarks and play rhythms.  They will learn to play the piano in a state-of-the-art piano lab. Textbook needed for the class is Bastien Basic Piano Primer Book (pink book, $6.95), and the class meets from 3:15-4 p.m. on Tuesdays from March 19-May 7, in Room 301 Krieg Hall. The class will be taught by Tiffany Carey, and the cost is $100.
Private lessons are also available in piano, organ, all strings (including classical, electric and bass guitar and lute) wind instruments, voice, Suzuki violin and piano, and all percussion instruments.
Register for lessons and classes by calling the Center for Musical Development at 937-327-7050 or email ndavis@wittenberg.edu.  For more information go to www.wittenberg.edu/sce and click on Center for Musical Development.
Written By: Phyllis Eberts
Center For Music Development Announces Spring Classes