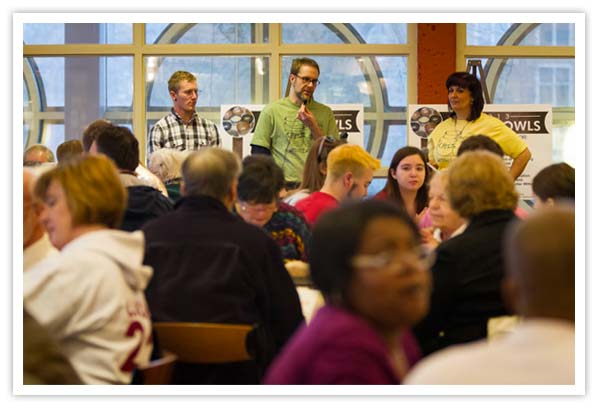 Over the course of 19 years, Wittenberg's annual Empty Bowls event has grown from a small, grassroots effort to raise money for local food banks into a community tradition that set a new fundraising record in 2013 during the March 21 event in the Center Dining Room (CDR) in the Benham-Pence Student Center.
Hosted once again by Wittenberg's Department of Art and Catholic Social Charities, Empty Bowls 2013 raised a whopping $41,735 for Second Harvest Food Bank in Springfield. The event has been organized since 2000 by Associate Professor of Art and Department Chair Scott Dooley, with assistance in 2013 from student coordinator Jacob Kuntz, class of 2014 from Versailles, Ky., and a host of volunteers who prepared a record 1,060 ceramic bowls.
Participants paid $15 to attend the event, entitling them to select a hand-crafted ceramic bowl and fill it with soup, salad and bread buffet. The fundraising goal for the 2013 event was $38,000 after the 2012 event raised more than $36,500.
"Thanks to all of you that came out to support the event," Dooley said. "During the challenging economic downturn of the last six years there have been many foundations and organizations that have been forced to cut funding. But we have been able to increase totals during this six-year period! I am continually amazed by Wittenberg and the Springfield community. Truly inspirational!"
Second Harvest Food Bank provides food supplies to the poor and homeless throughout Clark, Champaign and Logan Counties. Anna Plataniotis, events coordinator for Catholic Social Services/Second Harvest Food Bank, spearheaded efforts to publicize the event, secure food donations, and meet with local sponsors, who contributed a record total of $26,715.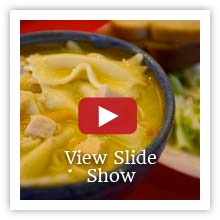 Sponsors were led by Bethel Evangelical Lutheran Church, which was designated a Golden Spoon Sponsor for its level of commitment. Major event sponsors for the 2013 event included Dr. Dana and Judy King, Madison Avenue Pharmacy, Harry N. Chakeres, Villa Springfield Health and Rehabilitation Center, Wallace & Turner/Patrick Field, the Union Club, Sodexo and Wittenberg Student Senate – Build a Better Wittenberg.
VIP Sponsors included Assurant, ESSEX of Springfield, Rollins Moving & Storage, Speedway LLC, Mary Alice and Steve Neely, Ladies Philoptochos Society, Betsy and James Dean, Rick Nedelman and Lori Thomas, Home City Federal Savings Bank, Mary Jo Groves and Rob Baker. Soup Sponsors include Sodexo Catering Service, Bob Evans Farm, Linardo's Villa, Mela Urban Bistro, Los Mariachis, Seasons Bistro Bar & Grille and Buckeye Sports Lodge.
Salad and bread was donated by Dole Foods and Klosterman's Bakery. Promotional posters were designed by Max Fleischman, class of 2013 from Yellow Springs, Ohio.
Bowls are thrown using a pottery wheel and then trimmed, fired and glazed throughout the year by volunteers, including students, faculty and staff members, and Springfield community members. "Bowl throwers" in 2012-13 included Alisa Mizikar, Susan Finster, Leslie Morris, Lynn Riewerts-Carine, James Dumstorf, Jeremy Block, Corie Cappelucci, Taylor Burmeister, Jacob Kuntz,  Melissa Miller, Courtney Ross, Kaitlyn Bedard, Kaitlyn Butterfield, Jordon Stafford, Arriana Hamilton, Morgan Beam, Kiersten Kuntz, Kelli Harrod, Samantha Evans, Gina Grusenmeyer and Dooley, who teaches ceramics at Wittenberg.
Also of note were artists who donated their work for a raffle that took place during the event: Alisa Mizikar, Leslie Morris, Susan Finster, Lynn Riewerts-Carine and Dooley.