Published Apr. 2, 2013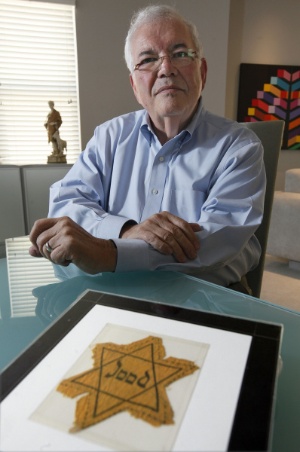 Springfield, Ohio – Wittenberg University will observe International Holocaust Remembrance Day 2013 with a presentation by John Koenigsberg, a Gahanna, Ohio, resident who survived the Holocaust in The Netherlands, at 7 p.m. Tuesday, April 9, in Bayley Auditorium of the Barbara Deer Kuss Science Center.
Koenigsberg was just five years old when his grandfather was taken from his home in Amsterdam, beginning an amazing journey in which his father joined the resistance and his family split up and went into hiding. He lived with a Catholic family in a southern Dutch province just 10 miles from the German border for much of World War II as more than 6 million Jews, including Koenigsberg's grandfather, were murdered by the Nazi regime led by Adolf Hitler.
Many years later, Koenigsberg sent detailed information about the family that sheltered him during the holocaust to Yad Vashem, the national Holocaust memorial in Jerusalem. The Snijckers family was honored at a ceremony in The Netherlands in September 2009 by the Israeli ambassador with the "Righteous Among the Nations" award, the highest honor awarded to non-Jews who acted according to the noblest principles of humanity by risking their lives to help Jews during the Holocaust.
Now 74, Koenigsberg speaks regularly about his experiences and shares personal artifacts with audiences. His goal is to educate audiences so the Holocaust will never become a "footnote in history."
Also on Tuesday, April 9, Wittenberg will host an interfaith prayer service at 11:20 a.m. in Weaver Chapel. During the service, there will be reflections, readings, music and prayers on the theme for International Holocaust Remembrance Day 2013, which is "Never Again: Heeding the Warning Signs."
Koenigsberg's presentation is sponsored by the Jewish Culture Club, and it is open to the public free of charge.
Written By: Ryan Maurer
Photo By: The Columbus Dispatch
Community Events
Psychology
Religion
Holocaust Survivor To Speak At Wittenberg April 9