Published Apr. 9, 2013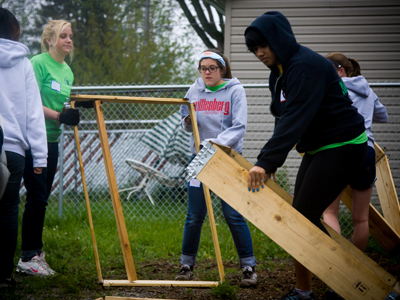 Springfield, Ohio – Wittenberg students, faculty, and staff are teaming up with Springfield community members to make the university's 12th annual Celebrate Service event on Saturday, April 20, the biggest and best yet.
Led by student-organizers Caroline Matchett, class of 2014 from River Falls, Wisc., Evan Cameron, class of 2014 from Dover, Ohio, and Alyssa Hughes, class of 2015 from New Britain, Conn., with support from the rest of the staff at the Susan Hirt Hagen Center for Civic and Urban Engagement, Wittenberg's Community Service program has organized the event for an anticipated 100 participants, who will branch out to seven locations across the community to participate in service projects.
The 2013 theme will focus on the famous quote from the hit movie The Lorax, "Unless someone like you cares a whole awful lot, nothing is going to get better, it's not." Organizers are working with organizations that are creating positive changes in the local community, while focusing their efforts specifically on environmental conservation and literacy.
"We will provide many organizations with the helping hands they need, and at the same time, help students learn the importance of giving back to the community," said Director of Community Service Kristen Collier.
Celebrate Service participants have different service areas to choose from, where they will be engaged in clean-up efforts, including the creation and upkeep of various community courtyards, and literacy activities for children. Students will be matched with the Children's Rescue Center, EcoCorridor, Springfield Promise Neighborhood, Goodwill Easter Seals, Keifer Academy, the South Fountain Neighborhood and the Great American Cleanup.
"Celebrate Service is meant to be exactly what the title suggests: a celebration of this university's mission values of compassion and service," Cameron said. "Our goal in this event is to link Springfield and Wittenberg by connecting students and faculty with Springfield citizens who care deeply about this community that we share as our home."
Space is limited at each site. Students, faculty and staff members can register at http://www.wittenberg.edu/communityservice.
Photo By: Kate Causbie '14
Community Events
Community Service
Student Activities
Wittenberg Community Prepares For 12th Annual Celebrate Service