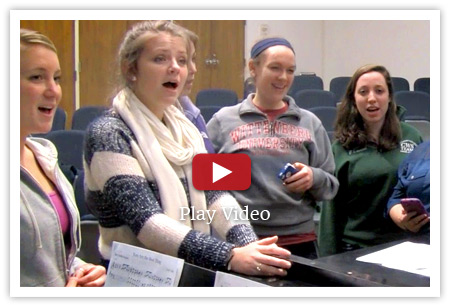 As the hit movie Pitch Perfect depicts, a cappella music has become a staple of college campus life. Wittenberg is home to two a cappella groups, Just Eve and The Wittmen Crew, which have become fan favorites.
Wittenberg's long and storied musical tradition continues this month. Just Eve, an all-female a cappella ensemble, offers its annual spring concert at 7:30 p.m. Friday, April 19, and 4 p.m. and 8 p.m. Saturday, April 20, in Ness Family Auditorium in Hollenbeck Hall. The Wittmen Crew, an all-male a cappella ensemble, will perform at 7:30 p.m. Thursday, April 18, 7:30 p.m. Friday, April 19, and 4 p.m. Saturday, April 20, in Bayley Auditorium in the Barbara Deer Kuss Science Center. Both musical groups will feature new selections and old favorites from a repertoire ranging from timeless ballads to current Top 40 hits.
While choirs, bands and orchestras are often introduced to students as early as elementary school, students usually encounter a cappella groups for the first time in college. Members of a cappella ensembles rely on their vocal chords for all components of their music. This means singing, of course, but it also means beat-boxing, and occasionally rapping. Their tight harmonies, varied repertoire and student-arranged music selections set a cappella groups apart from other campus music groups.
At Wittenberg, these groups differ from other campus music ensembles because they are student-run. While Just Eve and The Wittmen Crew have faculty advisors, the motivation to succeed comes from the singers themselves. This independence is embraced by members because it allows them to establish a productive, yet fun and casual environment in which they can prepare for their concerts and record CDs.
"A cappella groups provide a fun opportunity for students from many different departments on campus to release the stresses of course work and build long-lasting relationships through the joys of harmonization," said Luke McSurley, class of 2014 from Wilmington, Ohio.
Ashley Berg, class of 2013 from Springfield, Ohio, knows that a cappella groups are about more than just the music.
"I consider being a part of Just Eve to be one of the most precious and meaningful things that I will take away from Wittenberg," Berg said. "In four years in the group, I have developed close friendships with a diverse group of girls, developed a stronger passion for music and people, and simply had a blast!"
Just Eve was founded 11 years ago by Libby Weaver, class of 2004, and Stephanie Conway, class of 2004. In 2012-13, the group consists of 16 members, led by Berg, who serves as the organization's president, and Brittney Vogel, class of 2013 from Fort Thomas, Ky., who is the vice president.
The Wittmen Crew is an all-male group started in 1999 by Ernie Spycher, class of 2002, and Justin Peters, class of 2002. In 2012-13, the group consists of 17 members, and is led by President Bobby Reynolds, class of 2014 from Columbus, Ohio, and Vice President Tyler Wyche, class of 2014 from Columbus, Ohio.
Auditions take place each year in the fall and all interested students are encouraged to attend. The only requirements for participation in Just Eve and The Wittmen Crew are a love of music and a talent for performing.
Written By: Julia Devine '14
Video By: Julia Devine '14 and Megan Conkle '14