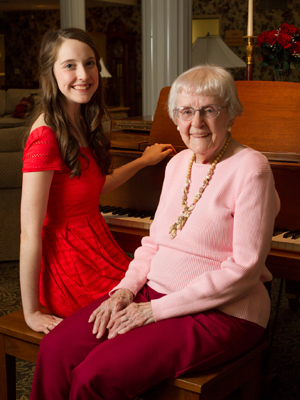 Chelby Dye (left) with Ruth Kunkel Bayley '42
Springfield, Ohio – Wittenberg University's Center for Music Development offers a new opportunity for talented music students who have completed a year of lessons or group experience with the introduction of the Bayley Summer Music Academy, which will take place for the first time from 9 a.m.-noon Monday-Friday, June 17-21, in Krieg Hall, 734 Woodlawn Ave.
Ruth Kunkel Bayley, Wittenberg class of 1942, made a generous gift to Wittenberg's Center for Music Development in 2012 to ensure that young musicians in the Springfield area could take lessons, regardless of their financial circumstances. In addition, the endowed fund led to the creation of the Bayley Summer Music Academy, which allows for students of middle school ages to participate in a week-long program of string and voice instruction.
The impact of Bayley's gift can be seen in students like Chelby Dye, age 15, who has taken piano lessons through Wittenberg's Center for Music Development since September 2012 thanks to a partial scholarship. Dye's talents continue to develop as she performs at her church and in the jazz band at her school.
"I'd like to think that this academy was in honor of my deceased husband, Bob, as he too was a student at the Wittenberg School of Music," Bayley said.
Bob and Ruth Bayley made numerous gifts to their alma mater over the years, including support for the renovation of the former Phi Kappa Psi fraternity house into the Bayley Alumni House, an endowed scholarship that has benefited dozens of Wittenberg students, and the renovation of the HPER Center lobby.
The Bayley Summer Music Academy will include Masterclass Courses in Violin, Viola, Cello and String Bass, which place students in small groups to receive both individualized and small ensemble instruction with a focus on refining instrument techniques. Masterclass Voice Course will introduce a variety of vocal exercises and music to give the participants an opportunity to develop healthy vocal techniques.
Musicianship Class features activities and techniques that focus on music reading skills using a variety of instruments – piano, hand chimes and percussion. In addition, there will be Courtyard Specials: Mini Concerts, which are performances by professionals and peers, and presentations by music students for their parents. Finally, Ensemble Experience will bring the students together for the last session of each day to work on ensemble pieces they will perform on the last day's recital.
Instructors for the first Bayley Summer Music Academy include Evalind Pickering, String Masterclass and Ensemble conductor; Barb Mackey, Cello Masterclass; Sharon Safley, Musicianship instructor; Nancy Davis, Voice Masterclass and Musicianship; and Pat King, String Masterclass instructor.
Registration forms and fees ($25 non-refundable registration fee, which is applied to the $75 tuition fee) are due by May 20, full payment by June 10. The registration form is available at the bottom of the Wittenberg Center for Musical Development: http://www4.wittenberg.edu/administration/school_of_community_education/....
Contact Nancy Cripe-Davis via email ndavis@wittenberg.edu or phone at 937-327-7050 for further information.
Written By: Phyllis Eberts and Ryan Maurer
Photo By: Erin Pence
Success Stories (current students, faculty, alumni)
Alumni Success
Music
Center For Music Development Announces Bayley Summer Music Academy