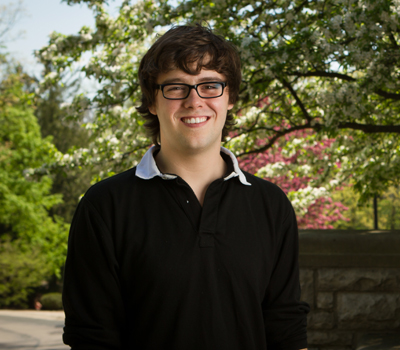 Springfield, Ohio – For Connor Ryan, Wittenberg University class of 2015 from Columbus, Ohio, the Great Wall is a minor barrier in his Chinese language studies. At a time when most college students struggle to make plans for the summer, Ryan's three-month break is already planned after he was recently awarded a fully funded Critical Language Scholarship (CLS) from the United States Department of State for intensive study in China.
The CLS finances a select number of U.S. students who wish to explore extensive studies in 13 essential foreign languages. Ryan will spend eight weeks at Xiamen (Amoy) University in a program designed to hold students to a language pledge that encourages the extensive use of Chinese.
"I will be in class for at least 20 hours per week and have a variety of cultural experiences designed to get me using Chinese," Ryan said.
When Ryan finishes his studies over the summer, he will continue his academic pursuits in China during the 2013-14 school year, thanks to a prestigious National Security Education Program (NSEP) David L. Boren Scholarship for International Study. Ryan will study intensive Chinese C.E.T. Academic Programs in Harbin, China, thanks to a scholarship program that provides "unique funding opportunities for U.S. undergraduate and graduate students to add an important international and language component to their educations," according to the organization's website.
An East Asian Studies major and economics minor, Ryan's interest in Chinese language aligns with his career aspirations, but it was not his lone motivation for applying for the opportunity to study abroad.
"The reason I became interested in this field was because growing up, I had a lot of Chinese friends," said Ryan, who also is working toward a self-designed Chinese Studies major while at Wittenberg. "My best friend's family is from Taiwan, after all."
He attributes much of his success to the language department and faculty at Wittenberg, as well as the university's Office of International Education. He participated in an exchange program with Fudan University in Shanghai during his summer break in 2012, and he has begun researching Chinese financial markets for his senior thesis thanks to a research grant from the Student Development Board. In addition, Ryan is the recipient of the Eugene R. Swanger Endowed Scholarship, which he plans to utilize to fund his travels in the Far East.
"I imagine that this is one of the only schools where you could not even go to China but still develop excellent Chinese, owing to the amount of work the faculty put in," Ryan said.
The scholarship announcements came shortly after Ryan participated in the 12th annual "Chinese Bridge" Chinese Proficiency Competition, organized by the Confucius Institute Headquarters. Led by Associate Professor of Foreign Language and Literatures Howard Choy, faculty members spent about one month preparing Ryan, Erica Davis, class of 2013 from Mount Vernon, Ohio, Miro Nguyen, class of 2015 from Hanoi, Viet Nam, and Bailey Dubois, class of 2014 from Canton, Ohio, for the event.
Each student placed at the competition at Pace University in New York City. Davis, who is a finalist for a prestigious Fulbright Scholarship, won a third place in senior group. Nguyen won a second place in the junior group, and she has been invited to attend the finals of the competition in China this summer. Dubois and Ryan each won a third place in the junior group.
Choy says the experience is about more than competition, however.
"It is an important platform for college students to learn the Chinese language and culture, as well as to meet with their peers from other institutes," he said. "I'm truly proud of our students because all of their speeches are originally composed by themselves, not by their teacher as other schools do.
"My role is a collaborator who makes corrections and suggestions with them, and a coach, who trains their Mandarin pronunciations for accuracy. Our focus is on the learning process."
For people like Ryan, competitions, scholarships and career opportunities are just a by-product of a deep connection to his studies developed by Wittenberg's challenging liberal arts curriculum and outstanding faculty.
"Even if I had been born decades ago, before China's economy boomed, I still would have wanted to study Chinese, even if it did not pair well with my study of economics," he said. "At heart, my study of China is about culture, not career. The career is just a lucky bonus!"
Written By: Megan Conkle '14
Student Success
East Asian Studies
Economics
Wittenberg Student Earns Scholarships For Intensive Study In China