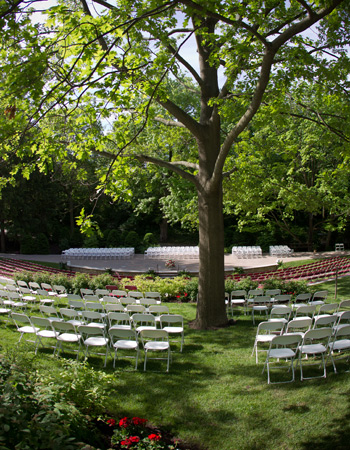 Springfield, Ohio – As more than 350 Wittenberg University students cross the stage in picturesque Commencement Hollow during the 168th annual Commencement exercises on May 11, 2013, another round of rousing cheers are sure to come from family and friends of "non-traditional" students who earn their degrees through the School of Community Education (SCE).
SCE students often juggle family commitments, jobs and other life challenges as they work toward graduation, and their stories are frequently moving examples of perseverance and dedication. In 2013, this includes several veterans who studied at Wittenberg after returning from their military service to complete their degrees, including Josiah Elizondo, who previously spent four years in the United States Marine Corps serving as a combat engineer, working on various types of construction, demolition and even explosives.
He has pursued his passion since enrolling at Wittenberg, however, and that is working with children. Four years later, Elizondo will earn his bachelor's degree in education, with concentrations in early childhood and intervention.
Many SCE students transfer to Wittenberg from one or more schools, and some endure lengthy commutes to attend classes. Despite the obstacles, 17 of the 26 SCE graduates in 2013 have also gained membership in Wittenberg's Eta chapter of Alpha Sigma Lambda (ASL), the national adult honorary.
Among them is Paulette (Cookie) Hageman, a Wittenberg employee since 1994. She has worked in the Office of Human Resources, Wittenberg's Physical Plant and since 2001, in the Office of Advancement. Over the last six years, Hageman has worked toward a degree in organizational leadership through the School of Community Education.
What's next? "I'm going to be a lifelong learner, that's for sure," Hageman said.
Each year, numerous SCE graduates earn Latin honors cum laude, magna cum laude or summa cum laude, which signify students with grade point averages of 3.5 or higher while studying in a wide range of majors. In 2013, eight SCE graduates will have their names called on Commencement Day with such Latin honors attached to them as the students earn diplomas in 13 different subjects.
Commencement is the final day of an academic journey for SCE graduates, the culmination of years of determination, diligence and dedication. And for that, much applause is warranted.
Written By: Ryan Maurer
Student Activities
University News
School of Community Ed. Graduates Distinguished 2013 Class