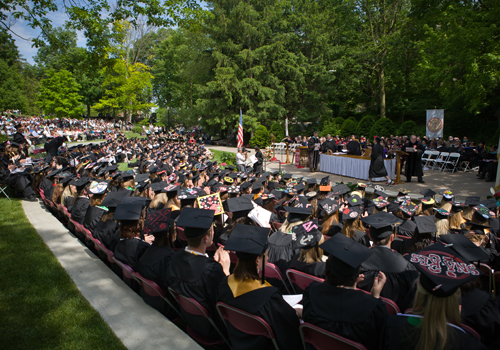 Springfield, Ohio — Wittenberg University's 168th Commencement exercises will take place Saturday, May 11, in picturesque Commencement Hollow, where members of the university community will celebrate scholarship with 365 degree candidates slated to cross the stage.
The Myers Hall bell will toll at multiple times Saturday morning to notify the campus that the ceremony will be held in its intended outdoor location at the scheduled time of 11:30 a.m. If the bell does not ring, that will be a signal that the ceremony will take place in the Health, Physical Education and Recreation (HPER) Center, with doors scheduled to open at 10 a.m. Guests should be seated at either venue no later than 11 a.m.
If the ceremony is moved to the HPER Center, doors to Pam Evans Smith Arena will close at 11:15 a.m. to allow for movement of the academic procession. No one will be permitted to enter the arena after the doors have closed. Guests without tickets are welcomed and encouraged to view the ceremony via a video broadcast transmitted to classrooms throughout Hollenbeck Hall.
Special parking and seating have been arranged for physically disabled guests. For Commencement exercises held outdoors, physically disabled guests may enter campus before 10 a.m. through the drive on North Plum Street. A Wittenberg security officer will be at the driveway entrance to give instructions for parking and seating. In the event the exercises are held indoors, physically disabled guests may be dropped off in front of the HPER Center. Because of limited space in the HPER Center, seating is at a premium, so disabled guests may be seated with only one friend or family member.
Those scheduled for recognition during the Commencement ceremony include 26 "non-traditional" students from the School of Community Education and international students from Austria, Belarus, Germany, Japan, Russia, Nepal and India. The Class of 2013 is comprised of 222 females and 143 males, with biology, business, communication, education, English, history, political science and psychology representing the most popular majors.
Twenty-seven states and the aforementioned seven countries outside of the United States are represented within the graduating class. Undergraduate degrees to be awarded are Bachelor of Arts, Bachelor of Fine Arts and Bachelor of Science, in addition to Master of Arts in Education. Five students in the class have earned two degrees during their collegiate career at Wittenberg.
A total of 117 graduates will earn Latin honors in recognition of their exceptional academic pursuits. Forty-one of them will be designated cum laude (3.5-3.69 grade point average), 33 will graduate magna cum laude (3.7-3.79) and 43 will graduate summa cum laude (3.8-4.0), including three students who hold perfect 4.0 grade point averages: Sarah Kessler, Rebecca Price and Amy Stamon.
The 2013 Commencement speaker is Matthew Shay, president and CEO of the National Retail Federation. Shay leads the world's largest retail trade association and serves as chief spokesman for an industry that includes more than 3.6 million U.S. establishments, supports 42 million U.S. jobs, and contributes $2.5 trillion to annual gross domestic product.
Shay is one of three individuals receiving honorary degrees during Wittenberg's 2013 Commencement Exercises. He will be joined on the stage by retired CIA official Fritz Ermarth and German historian Hans Michael Ermarth, while the Hon. Judge William A. McClain, class of 1934, received the Wittenberg Medal of Honor on April 12, and the late Charles D. "Chad" Weller, class of 1970, will receive the Wittenberg Medal of Honor posthumously in the fall.
Written By: Ryan Maurer
Community Events
Student Activities
Success Stories (current students, faculty, alumni)
Student Success
University News
Wittenberg Preps For 168th Commencement Exercises