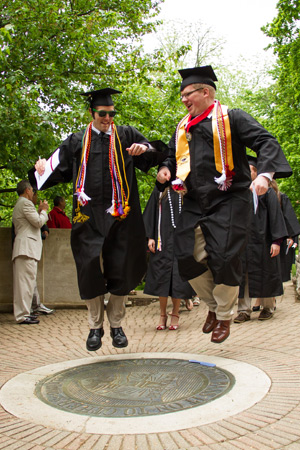 Springfield, Ohio — It may have been an unseasonably cool spring day, but Wittenberg's Class of 2013 allowed nothing to dampen its collective spirit as the university celebrated its 168th Commencement exercises in front of an enthusiastic, standing-room-only crowd in idyllic Commencement Hollow.
University President Laurie Joyner led her first Commencement celebration, welcoming the 365 members of the Class of 2013 into the prestigious ranks of Wittenberg alumni. She also introduced three distinguished guests, the 2013 Commencement speaker and National Retail Foundation CEO Matthew Shay, class of 1984, former CIA leader Fritz Ermarth, and historian Hans Michael Ermarth, who each received an honorary doctor of humane letters during the ceremony.
Click here to read profiles of selected seniors.
Click here to view photos from the event.
Click here to watch a student-produced video about the Wittenberg experience.
Joyner welcomed the graduates and their invited guests to the ceremony, while making special mention of the parents in attendance. They were invited to stand and were recognized by the assembled crowd with a thunderous ovation.
She then saluted the members of the Class of 2013.
"As a class, you challenged us to live up to our mission and to celebrate diversity in all its forms," Joyner said. "Your kindness, engagement and passion for this university have reminded me of how privileged we all are to serve you."
Wittenberg's Class of 2013 included 26 "non-traditional" students from Wittenberg's School of Community Education, in addition to undergraduate students from 27 different states and seven countries outside of the United States. Undergraduate degrees of Bachelor of Arts, Bachelor of Fine Arts and Bachelor of Science were awarded, in addition to Master of Arts in Education degrees that were given to four graduates. A total of 27 different majors, spanning the alphabet from art to theatre and dance, were represented in the graduating class, which included 222 females and 143 males.
Joyner offered some advice to the graduates as they prepare to "for the next part of your journey."
"I would encourage you to remain true to your core principles, even when it requires great courage to do so," she said. "Embrace what you value in all that you do, stretch yourself even more than you already have, challenge yourself to always do the right thing, lead with compassion, integrity and courage, and fight for all that is just."
Latin honors were awarded to 117 of the graduates in recognition of their exceptional academic pursuits. Forty-one of them were designated cum laude (3.5-3.69 grade point average), 33 magna cum laude (3.7-3.79) and 43 summa cum laude (3.8-4.0), including three students who hold perfect 4.0 grade point averages: Sarah Kessler, Rebecca Price and Amy Stamon.
Joyner welcomed Senior Class President Aaron Long to the podium, who livened up the ceremony with his reflections of the last four years and a quote from comedian Dave Chappelle, "You know you must be doing something right if old people like you."
"We might not realize it right now, but we have acquired all of the necessary tools to make old people like us," Long said in an unusual tribute to a Wittenberg education before concluding his remarks with the symbolic passing the torch to 2014 Senior Class President Ben Longstreth.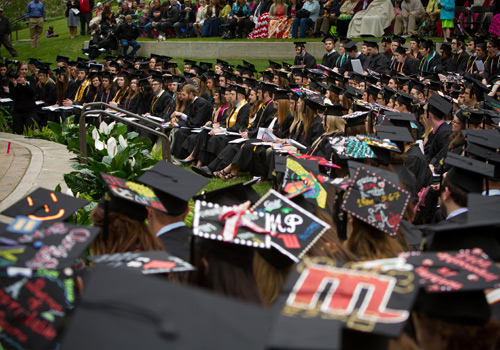 Long was followed to the podium by Shay, who leads the world's largest retail trade association and serves as chief spokesman for an industry that includes more than 3.6 million U.S. establishments, said he was honored by the opportunity to return to his alma mater. Shay was accompanied by numerous family members, including his three siblings who are also Wittenberg graduates.
Shay's reflections on his time at Wittenberg included chuckles about all the fun he had while on campus. He thanked campus leaders like retired Dean of Students Richard Scott and Professor Emeritus Gerry Hudson for giving him "second chances" that he has made the most of since graduating from Wittenberg with a degree in political science.
He encouraged the graduates to pursue their passions, even in their professional careers. He offered examples from his career while counseling the graduates to "never get outworked" before capping his remarks with some words of wisdom.
"Your real responsibility is to find a way to honor those people who stood up earlier (the parents) and those can't be here with us and those sitting behind me and those that work in the maintenance department here – everyone here who made the last four years for you possible," Shay said. "Your job now is to take what they gave you and find someone to honor the sacrifices they made.
"Nobody would be here if somebody didn't make a sacrifice for you. Someone made a commitment that this was important enough for you to do and they've made their lives' work to make it possible for you to do this. So you need to go out and show them that you earned this privilege, that you can live up to the sacrifice they made for you. Most importantly, you need to take that light that we talk about here at Wittenberg and you need to pass it on to others. That's your challenge."
Joyner summed up the day with her views on a Wittenberg University education.
"Use your gifts to the fullest," she said. "Embrace them, build upon them, and then give them away. Becoming fully human through education and service to others is the real purpose of what we do here at Wittenberg University."
Written By: Ryan Maurer
Photos By: Erin Pence
Student Activities
Success Stories (current students, faculty, alumni)
Student Success
University News
Wittenberg Celebrates 168th Commencement Exercises