Published May 16, 2013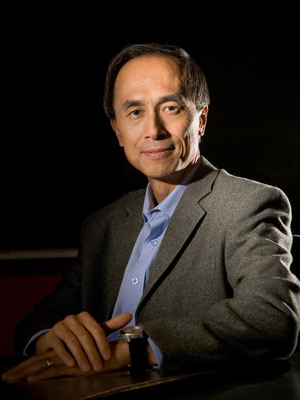 Springfield, Ohio – Wittenberg Professor of Political Science Yu Bin has been invited to serve as a visiting research professor at the prestigious United States Army War College in Carlisle, Pa.
The Army War College "educates and develops leaders for service at the strategic level while advancing knowledge in the global application of Land power," according to its website. The college provides professional military education, conducts research, encourages discourse and conducts strategic leader development.
A political science professor at Wittenberg since 1991, Yu Bin is an expert in international relations, East Asian security and politics, and Sino-Russian relations. He regularly speaks at conferences around the world, presenting papers and leading conversations on a wide variety of topics, including a conference titled "NATO cooperation with the Asia-Pacific region" in London in March.
His assignment at the Army War College includes research on the situation in Central Asia, particularly the Russia-China-led Shanghai Cooperation Organization (SCO), which is the only regional security group without direct U.S. participation in the world. Specifically, Yu Bin will assess the possibility for the U.S. and NATO forces to engage the SCO for the stability of the post-NATO Afghanistan.
Yu Bin has co-authored six books, and he has published more than 120 scholarly and policy articles in journals, including World Politics, Strategic Review and Harvard International Review. His experience has made him a much sought-after expert for different media in both English and Chinese languages. Since the early 1990s, Yu Bin has been a commentator for the British Broadcasting Corp. (BBC) on a wide range of issues, including world politics, economics and East Asian affairs. He was featured as an expert on the Korean War in a Canadian-French documentary, Korea: The Unfinished War in 2003. He is also a senior writer for Asia Times online.
Over the years, Yu Bin has developed close ties with governmental and academic institutions in both the U.S. and China. He is one of the original members of the annual "Pacific Forum-Fudan (Shanghai) Dialogue," the only U.S.-China "unofficial" communication channel in 1999 when all other bilateral connections disconnected after the U.S. bombing of the Chinese embassy in Belgrade, Serbia.
Since 1999, Yu Bin has also been part of a small community of experts who work together to provide a quarterly analysis of East Asian foreign relations for the Pacific Forum, Center for Strategic and International Studies (CSIS), one of the most prominent foreign policy think tanks in the world. His analyses have appeared regularly in a CSIS e-journal called Comparative Connections. Since 2002, Yu Bin has been senior fellow for the Shanghai Institute of American Studies, the first and only private think tank in China for U.S.-China relations.
More recently, Yu Bin became the founding editorial member of Foreign Affairs Observer quarterly in Beijing, senior editor of the prestigious Fudan American Review in Shanghai, and senior fellow at the Guangdong Research Institute for International Strategies.
Yu Bin received his masters from the Chinese Academy of Social Sciences and his doctorate from Stanford University, where his focus was Russian-China relations. In addition to teaching political science at Wittenberg, Yu Bin served as the director of Wittenberg's East Asian Studies Program for 20 years.
Written By: Ryan Maurer
Photo By: Erin Pence
Wittenberg Professor To Teach At U.S. Army War College