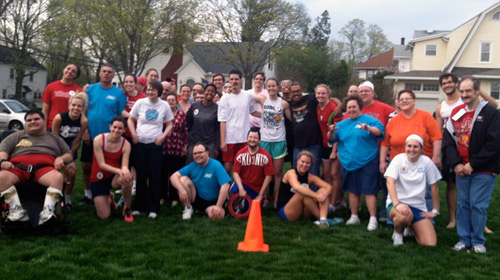 Wittenberg student-athletes and Special Olympians at the conclusion of the Field Day.
Springfield, Ohio — A modest reward for winning an online contest in the fall became the financial foundation for a fun event in the spring as Wittenberg University's Student-Athlete Advisory Committee (SAAC) hosted its first-ever Special Olympics Field Day.
Members of Wittenberg's women's basketball, women's soccer, and men's swimming and diving teams led the Field Day festivities, which were made possible by $500 from the NCAA earned through the NCAA Division III Special Olympics Spotlight Poll, an online story-telling initiative (http://www.ncaa.org/D3SpecialOlympics) in September 2012. A story that ran on Wittenberg's website won first place, earning the cash award to be used for future Special Olympics activities.
Approximately 25 individuals involved in Clark County's chapter of Special Olympics participated in running events and a wide range of other activities, including a soccer shooting contest, a softball toss, a watermelon rolling race, and relays involved balancing an egg on a spoon and twirling a hoola-hoop. The event concluded with a hearty Tiger Up! cheer involving both Wittenberg student-athletes and Special Olympians. All participants received a certificate and a pair of Special Olympics shoelaces.
Assistant Director of Athletics for External Affairs and SAAC Co-Advisor Ali Teopas described the event as heart-warming for all involved. The Field Day event capped the second year of a fruitful partnership between Wittenberg SAAC and Clark County Special Olympics.
"This continues to be a wonderful partnership," Teopas said. "There is no question that both our student-athletes and the Special Olympians benefit from the opportunity to build new relationships."
The relationship between Wittenberg's SAAC and Clark County's Special Olympics began in response to an NCAA Division III-wide SAAC program initiated at the 2011 NCAA Convention. The purpose of the partnership is to "improve the lives of Special Olympics athletes through their involvement with Division III student-athletes and to foster a mutual learning experience between Division III student-athletes and Special Olympics athletes."
The national initiative to pair Special Olympics with student-athletes competing at NCAA Division III colleges and universities across the country is a perfect fit with Wittenberg's innovative Tiger GAME Plan, which advocates community service as a key element of the collegiate student-athlete experience. Wittenberg student-athletes have filled a critical void by providing volunteer instructors in a quality facility at a time when Special Olympics, like so many charitable organizations, is struggling with funding.
The impact has been profound on the Wittenberg student-athletes who have taken leadership roles in the training programs, including women's soccer standout Kelly Brothers, class of 2013 from Dublin, Ohio.
"My involvement with Special Olympics through SAAC has been beyond amazing," she said. "The program really touched my heart this year, and I think many Wittenberg athletes have become more interested in volunteering for this specific program. Working with Special Olympians allowed me to share my love for athletics with people who are truly there for the love of the game.
"My participation revealed to me that my time on the women's soccer team at Wittenberg did not just teach me how to compete or work with a team, it also gave me a light to pass on to others outside of the Wittenberg community. I can without a doubt say that Special Olympics was my favorite part of being involved in the Student Athlete Advisory Committee!"
Brothers and her teammates attended a Special Olympics bowling event in Beavercreek in February. While there, the student-athletes assisted the Special Olympians whenever necessary and encouraged them through the competition, just as the Tiger softball team did during a Special Olympics softball tournament in September 2012.
In addition, Wittenberg SAAC members took turns training Special Olympians for a swimming competition during the fall semester and a powerlifting competition during the spring semester. Wittenberg will host the powerlifting competition in June.
Also of note, the Tiger football team participated in a Habitat for Humanity project on April 20, Wittenberg SAAC raised money for a local family in need through its annual Toys for Tots drive during the fall semester, and Tiger student-athletes hosted Kick4Life, a fundraising soccer tournament, in April at Edwards-Maurer Field. All proceeds went to benefit orphans in the impoverished African kingdom of Lesotho.
Finally, female student-athletes hosted the annual National Girls and Women in Sport Day in January, where young children are invited to participate in an expo in the HPER Center, and another group of student-athletes led local fifth and sixth-graders in a pair of "Get Active" sessions during Wittenberg's annual Celebrate Service event in April.
"College student-athletes have many opportunities to make a difference in their community," Teopas said. "I'm proud of the efforts of Wittenberg student-athletes during the 2012-13 school year, and I'm confident their contributions will only increase in the future."
Written By: Ryan Maurer
Photo By: Sarah Jurewicz
Community Events
Community Service
Student-Athletes Extend Partnership With Special Olympics