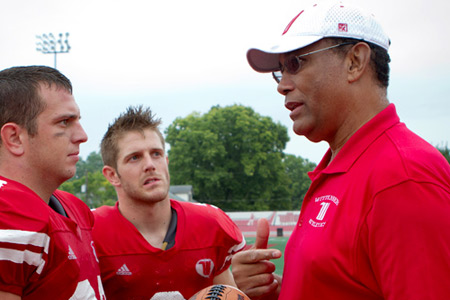 Springfield, Ohio – Wittenberg University Director of Athletics and Recreation Garnett Purnell has announced that he will retire effective Friday, Aug. 16.
Purnell steps down after 14 years in the position. He took the reins of Wittenberg's athletics program on Aug. 1, 1999, after serving three years as director of athletics at Morgan State University, an NCAA Division I-AA institution in Baltimore, Md.
"It has definitely been my pleasure to serve as the director of athletics and recreation at Wittenberg over the last 14 years," Purnell said. "I'm proud of the many accomplishments of our coaches and student-athletes during that time, and I'm appreciative of the opportunity to have worked with so many wonderful people both inside and outside of the Department of Athletics and this university."
Purnell has an extensive background in intercollegiate athletics. He served six years as assistant athletic director for student affairs at the University of Cincinnati, and five years as a compliance representative with the National Collegiate Athletic Association (NCAA) prior to moving to Morgan State.
Purnell also brings with him a coaching background that includes four years at Central State University as an assistant football and basketball coach. He also served as Wittenberg's head golf coach from 2003 to 2007, leading the team to top-four finishes in the North Coast Athletic Conference (NCAC) three straight years.
Since his arrival at Wittenberg, the Tigers have always finished in the top half of the NCAC's all-sports standings. Under Purnell's leadership, the athletics program advanced from fifth place to third in 1999-2000, 2000-01, 2008-09 and 2012-13, and second in 2001-02, 2002-03 and 2010-11. In 2009-10, Wittenberg won the NCAC Dennis M. Collins All-Sports Trophy, and in 2003 finished 20th in the NACDA Directors' Cup standings, its best finish ever.
"While there is no doubt that under Garnett's leadership Wittenberg's amazing tradition of excellence on the fields, courts, courses and pool has continued to grow, it is his heart and spirit that will stand out in my mind," said University Provost Chris Duncan. "Garnett is a man of deep faith and a genuine servant-leader. He has always stood ready to take on any role or task that needed doing with a generous spirit and an athlete's intensity.
"He has never failed to promote the ideal of the true student-athlete that Wittenberg prides itself on, and I can say directly that he has never failed to advocate with great passion for the men and women who served with him. He will be missed."
While serving as director of athletics and recreation at Wittenberg, Purnell has held leadership positions on various NCAC and NCAA committees. He chaired the NCAA Division III Interpretations and Legislation Committee and was a member of the NCAA Division III Financial Aid Committee and Management Council. Purnell currently serves on the NCAA Division III Committee on Infractions.
A champion on issues of diversity and inclusion within his institution and the NCAA Division III membership, Purnell is currently a board member for the Minority Opportunities for Athletic Association (MOAA). He also serves on the NCAC's Branch Rickey Initiative Committee, which recently was recognized with the inaugural Award for Diversity and Inclusion from the NCAA and the MOAA.
"Garnett Purnell has made the NCAC a better place over the past 14 years with his devotion to the student-athletes at Wittenberg and around the league," said NCAC Commissioner Keri Alexander Luchowski. "He fought so that everyone could have a place in our world, no matter their gender, race or ethnicity. And once they were here, he made sure to help them be the best they could be – at whatever their position.
"He has set an example to be followed in the future and cherished by those of us that were fortunate enough to have worked alongside him. He will be missed."
Purnell will continue to teach an activities class for Wittenberg's Health, Fitness and Sport Department during the fall 2013 semester. He also plans to pursue certification to become a lay minister through the Catholic Archdiocese of Cincinnati in hopes of serving the Springfield community.
Purnell earned his baccalaureate degree from Cheyney University in 1973 and a master's degree from the University of Dayton in 1984. He is married to Sally Sciabica and they have four children: Lauren, Xavior, Luke and Leslie.
Duncan said the university is currently finalizing a short-term transition plan that will involve an interim director of athletics and recreation. A national search for Purnell's successor will begin very soon, to be led by Wittenberg's Faculty Athletic Representatives, Professor of Economics and Associate Provost Jeff Ankrom and Associate Professor of Business Wendy Gradwohl.
Written By: Ryan Maurer
Director Of Athletics Garnett Purnell Announces Retirement