Published Aug. 13, 2013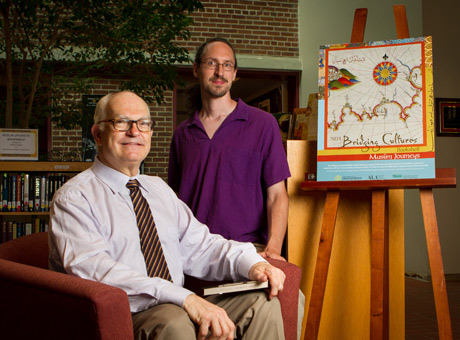 Professor of Sociology Jerry Pankhurst (left) and Reference Librarian and Associate Professor Ken Irwin are collaborating on a Wittenberg program titled "Bridging Cultures Bookshelf: Muslim Journeys."
Springfield, Ohio – For the second time in five years, Wittenberg University Reference Librarian and Associate Professor Ken Irwin has organized a reading and discussion series that he hopes will bring different cultures together to create a new level of understanding.
Five years after presenting a reading and discussion series of Jewish literature, Wittenberg has received grants from the National Endowment for the Humanities (NEH) and the American Library Association (ALA) as part of a national program titled "Bridging Cultures Bookshelf: Muslim Journeys." Professor of Sociology Jerry Pankhurst, a scholar of the societies of Russia and the Post-Soviet region who also has developed a close relationship with the Muslim community in the Springfield area, will lead five discussions of books themed "Pathways of Faith."
Wittenberg's Thomas Library received the first grant in January 2013 to stock its shelves with 25 books and four documentary films "selected to present the American public with new and diverse perspectives on the people, places, histories, beliefs, practices and cultures of Muslims in the United States and around the world," according to the NEH. The books and films, selected with the advice of scholars, librarians and cultural programming experts, "explore the basic requirements of learning and obeying the precepts of the Qu'ran, following Muhammad's teachings, and engaging in specific formal practices."
In addition to Pankhurst's book talks, Associate Professor of Art Alejandra Gimenez-Berger will lead a talk on Islamic art in connection with a film viewing on the same subject. The discussion series, made possible by a second grant received in May 2013, begins with a kick-off event on Wednesday, Aug. 28. The first lecture is scheduled for Thursday, Sept. 19.
The discussion series is presented in partnership with the Global Peace and Education Network, which has offered a local monthly speaker series that focuses on issues of local and global importance since the events of Sept. 11, 2001, with support from the libraries of Clark County and Greene County. The books and DVDs awarded through the grant are available both at Thomas Library and through OhioLINK.
"The goal of this series is to increase understanding," said Irwin, who authored the grants with Sarah Pollock, Wittenberg class of 2007. "Unfortunately, many of the images relating to Islam presented in the media focus on political or sectarian conflict. This series is an opportunity for people to gain a more complete understanding of Islam as a faith with a long and significant cultural history."
Participation is free and open to the public, but registration is required. Space is limited, so those interested are encouraged to register as soon as possible with Irwin at 937-327-7594 or via email at kirwin@wittenberg.edu.
Written By: Ryan Maurer
Wittenberg To Host Muslim Literature Reading And Discussion Series