Published Aug. 27, 2013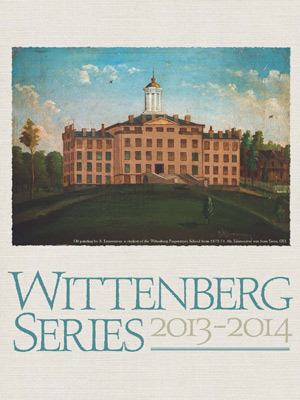 Springfield, Ohio – The Wittenberg Series enters its fourth decade offering the Wittenberg University and Springfield communities a diverse selection of guest lecturers and world-renowned performers in the 2013-14 school year, starting with a keynote address that features a young alumnus who is quickly gaining recognition for his work.
Click here for 2013-14 Wittenberg Series home page.
Kenneth Cukier, Wittenberg class of 1991, will provide the keynote address at the annual Opening Convocation at 11 a.m. Wednesday, Sept. 11, in Weaver Chapel. Cukier is currently data editor at The Economist after previously serving as technology editor of The Wall Street Journal Asia and the European editor of Red Herring. Cukier, co-author of the New York Times bestselling book Big Data: A Revolution That Will Transform How We Live, Work, and Think, has made numerous appearances on national television networks.
A wide range of lecturers will share their expertise with audiences during the 2013-14 Wittenberg Series, including Caryl Phillips, playwright, essayist and contributing journalist to The Guardian and The New Republic; Dave Barry, renowned newspaper columnist and author; Stephen Haynes, professor of religion at Rhodes College; Eric Foner, award-winning author and historian of the post-Civil War Reconstruction period; Maya Wiley, activist, civil rights attorney, and founder and president of the Center for Social Inclusion; and Marie Davidian, the William Neal Reynolds Professor of Statistics at North Carolina State University and president of the American Statistical Association.
In addition to the lectures, the Wittenberg Series will feature a medley of arts events. Among these are the Fisk Jubilee Singers, an award-wining a cappella ensemble from Fisk University; and the Second City Touring Company, a world-renowned theatre and improv comedy company.
"The Wittenberg Series is programmed to support Wittenberg's academic programs," said Corwin Georges, professor of theatre and dance and 2013-14 Wittenberg Series director. "One goal of the Series is to enrich our curriculum by presenting world-class lectures and artists, thus expanding our students' learning outside the classroom. To this end, in addition to the Series' public events, our speakers participate in department colloquia and our artists provide master classes.
"A second objective of the Series is to strengthen Wittenberg's bonds with our neighbors in Springfield and the region. Thus all of the programs are offered to the general public free of admission."
The Wittenberg Series was created in 1982 during President William Kinnison's tenure. Since its inception, Nobel Laureates, significant literary figures, most of America's foremost modern dance companies, as well as hundreds of prominent psychologists, educators, economists, theologians, urban planners and historians, have visited campus to participate in the Wittenberg Series.
All events of The Wittenberg Series are open to the public free of charge. Tickets for the Second City Touring Company performance are required and may be obtained at Wittenberg's Benham-Pence Student Center service desk beginning Feb. 17, 2014. Call the student center at 937-327-7443 for more information.
To make special arrangements, receive a Series poster or calendar of events, or become a friend of the Wittenberg Series, contact Jeannine Fox at 937-206-3539 or via email at jfox@wittenberg.edu.
Written By: Ryan Maurer and Megan Conkle '14
Wittenberg Announces Programming For 2013-14 Wittenberg Series