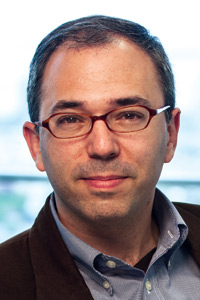 Springfield, Ohio – The 2013-14 Wittenberg Series opens with the traditional Opening Convocation, featuring a keynote address by journalist, editor and author Kenneth Cukier, Wittenberg class of 1991, at 11 a.m. Wednesday, Sept. 11, in historic Weaver Chapel. Like all Wittenberg Series events, the event is free and open to the public.
The title of Cukier's address is "Trust, Betrayal, and Edward Snowden," a fitting and timely subject considering his current position as data editor for The Economist. Previously, Cukier has worked as technology editor of The Wall Street Journal Asia, and European editor of Red Herring. His work has also been published in The International Herald Tribune, The New York Times, The Washington Post, Prospect, The Financial Times and Foreign Affairs.
In addition, Cukier is co-author of the book Big Data: A Revolution That Will Transform How We Live, Work, and Think which made the New York Times Bestseller List. Cukier also has been featured as a commentator for CBS, CNN, NPR, and the BBC, and he serves on the board of directors of International Bridges to Justice, the board of advisors of the Daniel Pearl Foundation, and is a member of the Council on Foreign Relations.
Also during the Opening Convocation, Charles D. "Chad" Weller will be posthumously awarded the Wittenberg Medal of Honor, the university's highest non-academic award. Weller, who passed away unexpectedly in August 2012, was a member of Wittenberg's class of 1970, and he went on to serve the university as a valued member and vice chairman of the Board of Directors. At the time of his death, Weller was a managing director of AVOS Fund Management LLC in New York City after working for more than 30 years in a variety of positions in corporate finance. He is remembered for his tireless support of Wittenberg and willingness to give back.
In addition to his keynote address at the Opening Convocation, Cukier will participate in a question and answer session at 4 p.m. in Bayley Auditorium.
Now in its 31st year, the Wittenberg Series brings distinguished lecturers and performing artists of national and international prominence to the Wittenberg campus and Springfield community. To make special arrangements, reserve a Series poster, or become a friend of the Wittenberg Series, contact Jeannine Fox at 937-206-3539 or via email at jfox@wittenberg.edu.
Written by: Megan Conkle '14
WittSeries
Success Stories (current students, faculty, alumni)
University News
English
Kenneth Cukier '91 To Speak At Opening Convocation