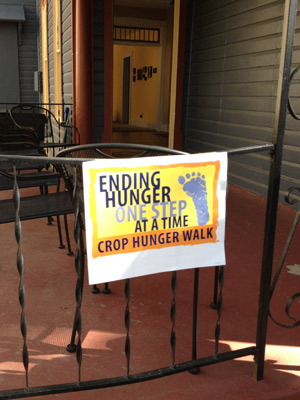 Springfield, Ohio — Wittenberg University has hosted a CROP Hunger Walk to raise money to fight hunger since 1988. The Weaver Chapel Association (WCA), a student-run campus ministry group, will host the 2013 event at 2 p.m. Sunday, Sept. 22.
Church World Service (CWS), a coalition of 38 different Christian denominations, started the CROP Hunger Walk program in 1947 to raise awareness about hunger. The association provides disaster relief, emergency kits and other necessities where needed throughout the world, from third-world countries to in-need cities in the United States. Today, CROP Hunger Walks take place in more than 2,000 communities, as well as 5 million participants involved in more than 36,000 walks through the last two decades.
Matevia Endowed University Co-Pastor Rachel Tune works with the WCA to organize Wittenberg's CROP Hunger Walk each year. She knows that at CWS "They'll make every penny count," distributing 25 percent of the proceeds to Springfield's local food pantry and the rest where the group sees fit.
The 3.5-mile walk will start on Alumni Way in front of the Benham-Pence Student Center and will go throughout the city of Springfield, allowing participants to engage in historical sights, as well as getting to see where their donations benefit. The CROP Hunger Walk is a way for those at Wittenberg to interact and make connections with the local community.
The motto of the CROP Hunger Walk, "We walk because they walk," references the fact that many people do not have any mode of transportation other than walking to get to food or other basic necessities. For instance, in some countries, young girls will walk miles to wells for fresh water, and do not have enough time to get an education. Money given to CWS will not only improve hunger conditions, but work towards a more positive way of life in impoverished societies.
Wittenberg's CROP Hunger Walk usually has 80-100 participants, and usually raises $1,600-$2,500 each year, but the WCA hopes to raise more in 2013. Anyone can participate in the walk, as well as donate money. To donate or sign up to participate, log on to http://hunger.cwsglobal.org/site/TR/2013FallCROPHungerWalk/TR-Fall2013?p... or stop by Weaver Chapel between 8 a.m. and 5 p.m. to receive an envelope for donations.
On the day of the walk, participants need to report at 1:30 p.m. at the stage on Alumni Way. Questions can be directed to Tune at 937-327-7413 or rtune@wittenberg.edu or student organizer Alyssa Hughes, class of 2015, at hughesa@wittenberg.edu.
Written by: Jenny Klose '15
Community Events
Community Service
Religion
Wittenberg To Host Annual CROP Hunger Walk Sept. 22