Published Sept. 20, 2013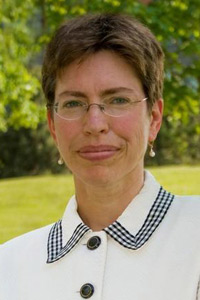 Springfield, Ohio — Thirty years after winning a national championship in the high jump and earning her degree with honors from Wittenberg University in the same month, Lt. Governor of Illinois Sheila Simon returns to her alma mater to participate in the second annual Women in Leadership Luncheon at 11:30 a.m. Wednesday, Sept. 25, in Room 105 of the Joseph C. Shouvlin Center for Lifelong Learning, 737 N. Fountain Ave.
The first Women in Leadership Luncheon took place in September 2012 as part of inauguration festivities for Wittenberg University President Laurie M. Joyner, Ph.D.  The event, which featured keynote remarks from Rita Bornstein, president emerita of Rollins College and a close friend and mentor of Joyner's, was attended by more than 60 women from across the country.
Elected lieutenant governor of Illinois in 2010, Simon will give the keynote address at the 2013 event, which is again expected to include a large crowd of female leaders from across campus, Springfield, the state of Ohio and beyond.
As the second-highest executive officer in Illinois, Simon acts as the governor's point person on education reform. She is credited with leading efforts to increase college completion after conducting a fact-finding tour of the state's 48 community colleges in her first year in office to highlight the role they play in reaching the state's goals.
After graduating from Georgetown University's law school in 1987, Simon chose to work at Land of Lincoln Legal Assistance instead of a large firm. While there, she provided legal services to those most in need, advocating for people facing domestic violence, discrimination and loss of housing. She later worked as an assistant state's attorney in Jackson County, and she has taught at Southern Illinois University School of Law, where she helped start a domestic violence clinic to serve clients and train law students.
A mother of two, the Illinois lieutenant governor is the daughter of the late Paul Simon, a former democratic candidate for president of the United States and a long-time senator representing Illinois, and Jeanne Simon, who served in the Illinois House of Representatives alongside her husband. Simon's husband, Perry, teaches at John A. Logan Community College in Carterville, Ill., and she continues to perform with a band called Loose Gravel.
President of Wittenberg's Student Senate, the university's student governing body, and the recipient of the prestigious M. Alice Geiger Award for outstanding contributions to the university community, Simon graduated summa cum laude and received a coveted NCAA Postgraduate Scholarship in 1983. She was honored in 2012 as one of nine members of the Chicago Sky's Honorary Title IX Team, which was created as part of the Women's National Basketball Association's celebration of the 40-year anniversary of passage of the landmark Education Amendments Act.
Written By: Ryan Maurer
Community Events
Success Stories (current students, faculty, alumni)
Illinois Lt. Governor Sheila Simon '83 To Speak At Wittenberg
Illinois Lt. Governor Sheila Simon '83 To Speak At Wittenberg