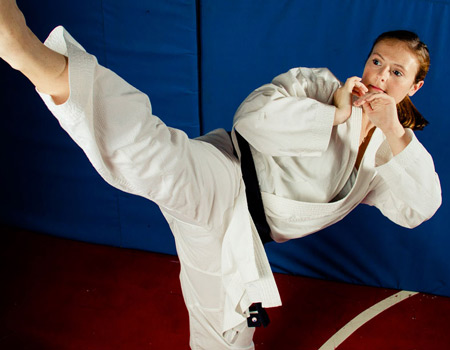 Springfield, Ohio – While most students started the new school year on campus, Sloan Galbraith, class of 2015 from Cincinnati, Ohio, was in Medellín, Colombia with the Olympic Junior Team USA for karate, competing in the Pan American Championship, Aug. 25-Sept. 1.
Galbraith joined Team USA this summer, taking second place in three out of five events at the U.S. Open. During the third match of Junior Fighting, a hit from her opponent dislocated her shoulder, but Galbraith continued fighting in the fourth match and earned a spot on Team USA. Joining the ranks of top athletes, Galbraith and her team spent a week at the Olympic Training Center in Colorado Springs, Colo., in preparation for the Pan American Championship.
On Aug. 28, USA Karate tweeted from Colombia, "The Jr. National Team has weighed in, is finishing their last training, and is looking great! Competition starts tomorrow!"
Galbraith competed in a division with representatives from nearly 20 different countries. Although she didn't place, qualifying for Team USA and competing in the tournament were major accomplishments for the Wittenberg junior, and her participation in the Pan American games reflects years of self-discipline and community support.
A student at Ritter's Family Martial Arts in Mason, Ohio, Galbraith took up karate competitively at the age of 13.  At 15, she competed in her first national tournament. Two years later, she competed internationally at the Junior Olympics and took first place in Weapons. Since then, she has competed at Nationals and the Junior Olympics every year, always taking either first or second place. Now in school, she usually goes home three times a week to train in addition to teaching karate classes for 4-7-year-olds.
The same discipline that drives her to keep a demanding training schedule also motivates her to maintain high academic standards.
Galbraith recently declared a sport management major, as well as minors in chemistry and biology. Although she considered attending a larger school closer to home, Galbraith believes that her experiences with professors are proof enough that coming to Wittenberg was the right decision.
"Of course balancing college and athletics is hard to do, but all of my professors have been more than understanding," she said. "Most of them can't wait for me to have a tournament close by for them to come watch."
From checking in with her after tournaments via text to helping her catch up on class material, Galbraith's Wittenberg professors have supported her efforts both in and out of the classroom.
In addition to competing nationally this summer, Galbraith worked on a collaborative research project with Peter Hanson, associate professor of organic chemistry.
"He helped me coordinate my schedule so that I could continue my summer research and still train and compete at nationals," Galbraith said. "He made it possible for me to pursue both of my passions."
Her chemistry advisor, Dave Finster, professor of inorganic chemistry, arranged a meeting for her with a physical therapy graduate program professor to learn more about possible career paths. That conversation, coupled with her summer experience and talking with trainers at the Olympic Training Center, led her to declare the sport management major, one of Wittenberg's new programs. She plans to pursue a career in athletic training for Olympic athletes.
"The professors are understanding and helpful, and they've made it possible for me to do school and karate," she said. "They're helping me figure out what I want to do with my life and keep karate in it."
Galbraith, who has received support from the Wittenberg community to pursue her calling, hopes to bring karate back to campus. As co-president of No Woman Left Behind, she plans to invite her karate instructor to lead self-defense lessons as part of this year's NWLB programming.
One lesson Galbraith has learned through her years of preparation, whether for athletics, academics or co-curriculars activities, is that it's not enough to work alone, and at Wittenberg, members of the community support each other in the personal search for balance that characterizes wholeness of person.
"Wittenberg offers so many different opportunities for you to explore what you're interested in," she said, "and the support you get from peers and professors will help you reach your goals."
Written By: Leigh Hall
Student Success
Biology
Chemistry
Sport Management
Student Competes At 2013 Pan American Championships