Published Oct. 7, 2013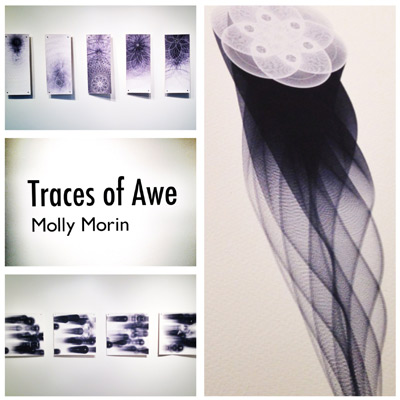 Springfield, Ohio – Wittenberg University presents a gallery exhibition of the works of Molly Morin, a graphic design artist and assistant professor at Weber State University in Ogden, Utah, whose uniquely complex body of work, Traces of Awe, combines art and science.
The exhibit runs through Friday, Oct. 25, in the Ann Miller Gallery, Koch Hall. Morin will present a lecture about her work at 4 p.m. on Monday, Oct. 7, in Kissell Auditorium, with a reception to follow.
This gallery of digital masterpieces blends the arts with science and technology – in a very literal sense. To create her artwork, Morin collected digital data using a web crawler that she designed herself.
"The digital prints in this collection are intensely mediated representations of poems by astrophysicist Rebecca Elson," Morin said. "I search for each poem, one word at a time, on the Internet, and data about this search generates the intricate patterns that appear to smear across the surface as they draw out information about each line of poetry."
Morin focuses all of her projects on visualized data sets that are produced from many sources, like poems or text messages, showing how daily life can be digitally transformed into a visual work of art.
"Data I collect will determine the shape, scale, and repetition of forms in the finished drawing," Morin said. "[The pieces of art] are titled with the Google Search term and a line or title from the poem, such that 'Helium: Girl With a Red Balloon' represents a search for the poem 'Girl With a Red Balloon' that started with a Google query for the word 'helium'."
Morin has worked for the Notre Dame Digital Visualization Theater and the Center for Research Computing, creating code-based work, and is currently working alongside Stephen Wolochowicz with interactive projections.
The Ann Miller Gallery is free and open to the public from 9 a.m.-5 p.m., Monday through Friday. For questions regarding the gallery, please contact the Art Department at (937) 327-6311.
Writing and Photo by: Kelsey Claar '15
Wittenberg Presents Exhibit of Works by Digital Artist Molly Morin