Published Oct. 11, 2013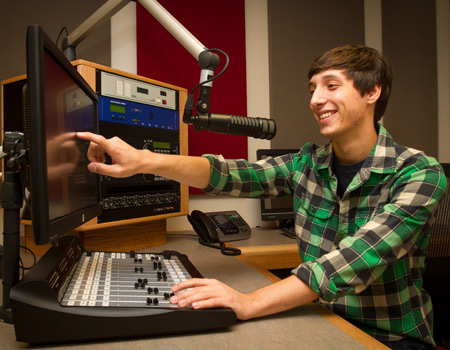 WUSO
station manager Andrew Jajack shows off the new state-of-the-art equipment in the renovated studios.
Springfield, Ohio – It has been nearly a year and a half in the making, but Wittenberg University's student-run radio station, WUSO 89.1-FM, will make a triumphant return to the airwaves with live programming during Homecoming Weekend festivities on Saturday, Oct. 12.
The station was damaged by water from a pipe that burst and knocked off the air in April 2012. Since then, all of the broadcasting equipment has been replaced and the studios have been completely renovated. Recorded broadcasts have been running over the 89.1-FM airwaves for about five months, but Homecoming Weekend will mark the first live programming from the new and improved WUSO studios in the basement of Wittenberg's Firestine Hall.
From 11 a.m. until 12:30 p.m. Saturday, WUSO's current students will welcome alumni for an Open House in the refurbished studios. Current students and alumni will share stories and favorite memories while playing their favorite songs, leading into the Wittenberg football pre-game show at 12:30 p.m.
The football game against Denison University is scheduled to kick-off at 1 p.m. at nearby Edwards-Maurer Field. WUSO Advisor and long-time radio "Voice of the Tigers" Scott Leo will handle the play-by-play duties and Jim Scoby will serve as color analyst.
Leo has worked closely with a host of students to get WUSO back on the air, including current station manager Andrew Jajack, class of 2014 from North Canton, Ohio. Both are pleased with the outcome of a long process, and they are eager to get back into the business of producing live programming.
"WUSO is a great resource for Wittenberg, Springfield and all of Clark County," said Leo, who also works as the director of broadcasting with the Columbus Clippers and teaches broadcasting at Fairmont High School in Kettering, Ohio. "With the new studios, the station has more capabilities than ever before. Wittenberg student broadcasters will greatly benefit from this new state-of-the-art facility."
WUSO's first broadcast dates back to 1966, and its signal has originated from its current location in Firestine Hall since 1996. In addition to its powerful over-the-air signal, which covers a 15-mile radius thanks to a 120-watt transmitter installed on the roof of Tower Hall in 2005, WUSO can be accessed 24 hours per day online at www.wuso.org.
Written By: Ryan Maurer
Photo By: Erin Pence
Student Activities
University News
Student-Run WUSO 89.1-FM Returns To The Airwaves