Published Oct. 14, 2013
Additional Media: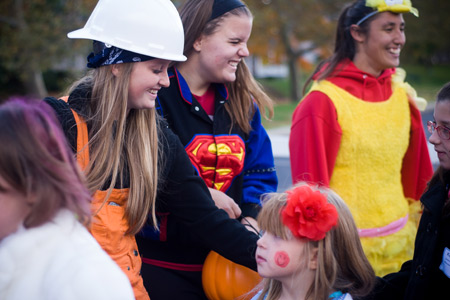 Wittenberg students often dress up for the annual Make a Difference Day service event, too.
Springfield, Ohio – As Halloween approaches, the Wittenberg University Susan Hirt Hagen Center for Civic and Urban Engagement Community Service Program prepares to host its eighth annual "Make a Difference Day," a Halloween-themed event that allows children to dress in costume and celebrate the holiday with the Wittenberg community on Saturday, Oct. 26.
Starting with registration at 9:30 a.m., children ages 3-12 will be led to different stations around the Benham-Pence Student Center to participate in such activities as pumpkin bean bag toss, fall crafts, face painting, a reading station, and more. The children will then partake in "trunk-or-treat" as various Wittenberg organizations give out candy from the trunks of cars. A bagged lunch will also be provided.
New this year, the event is collaborating with the Champion City Comic-Con, which will take place in the Joseph C. Shouvlin Center for Lifelong Learning from 10 a.m.-6 p.m. on the same day. Participating children will receive comic books from organizers of the Comic-Con event, which includes a wide variety of activities for comic book enthusiasts and fans.
Director of Community Service Kristen Collier is pleased to see how the program has grown over the years, starting with approximately 150 children eight years ago to now include the maximum number of 240 children each year. She loves seeing "the kids arrive in excitement" as they interact with children from all surrounding communities. Often Wittenberg will participate in projects for which volunteers go outside Wittenberg's campus, but "Make a Difference Day" brings children onto Wittenberg's campus, where they can feel part of the Wittenberg community.
This community service program is made possible by the approximately 100 Wittenberg students who serve as volunteers, leading children around campus, running activity stations and contributing to the trunk-or-treat. Any Wittenberg Students interested in volunteering should visit https://wittenbergcommunityservice.wufoo.com/forms/halloween-festival-gr... to sign up. The day also could not be possible without Build a Better Wittenberg, a branch of the Student Senate that has funded and supported the program for years.
To register children for the event, visit the Wittenberg Community Service website at http://www.wittenberg.edu/communityservice or call the office at (937) 327-7523.
Written By: Jenny Klose '15
Photo By: Kate Causbie '14
Community Events
Community Service
Wittenberg Hosts Eighth Annual Make A Difference Day Oct. 26