Published Oct. 15, 2013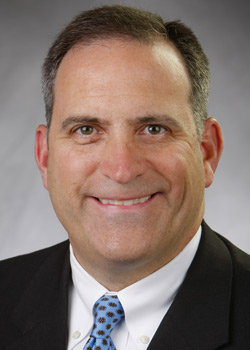 Springfield, Ohio – Wittenberg President Laurie M. Joyner, Ph.D., has announced that Robert Munson will serve as the university's new vice president for finance and administration. Munson will begin his new responsibilities at Wittenberg on Nov. 11, 2013.
"I am honored to have been selected to become the next vice president for finance and administration and excited to become part of the Wittenberg team," Munson said. "I believe my skills and experience will help position Wittenberg for the future and look forward to undertaking the challenges and opportunities facing the university."
In his new role, Munson, who currently serves as vice president of finance at Xavier University in Cincinnati, Ohio, will oversee a broad portfolio of administrative units that directly serve and support all aspects of campus life, including budget and resource planning, investment and portfolio management, and campus planning and real estate. In addition, Munson will lead Wittenberg's efforts in audit and compliance, risk management, student accounts, accounts payable, and printing and mailing.
A Certified Public Accountant (CPA) with experience working for a Big 4 firm, Munson has corporate finance experience in the services industry and more than a decade of proven leadership serving in a range of higher education business and finance roles.
Prior to his current vice presidential position at Xavier, Munson served as director for financial services from 2003-09 and then as director for financial planning and budgeting from 2009-12. From 2001-03, he served as controller and later vice president for finance and administration at Thomas More College.
Munson earned his bachelor's degree in business administration with a major in accounting from the University of Cincinnati in 1985 and became a CPA in 1988. He earned a master of business administration from Xavier in 2008. Munson replaces Darrell Kitchen, who retired from Wittenberg in September 2013 after 25 years of service to the university.
Founded in 1845, Wittenberg University has been nationally recognized for its accessible professors, classroom experience and teaching excellence. Known for providing an active, engaged learning environment and reflecting its Lutheran heritage, Wittenberg challenges students to become responsible global citizens, to discover their callings, and to lead personal, professional and civic lives of creativity, service, compassion and integrity. Learn more at www.wittenberg.edu.
Written By: Ryan Maurer/Karen Gerboth
Wittenberg Names Robert Munson VP For Finance And Administration