Published Oct. 16, 2013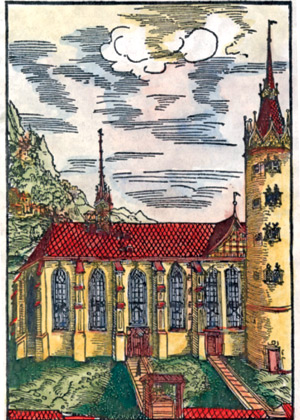 Springfield, Ohio – The 2013-14 Wittenberg Series continues with a cherished university tradition, the annual Festival Choral Eucharist for Reformation, led by David and Carol Matevia Endowed University Pastor Anders Tune at 7:30 p.m. Sunday, Oct. 27, in historic Weaver Chapel.
Using a service first created by Martin Luther in 1526, the Festival Choral Eucharist for Reformation uses a model of the German mass. Instead of having just a choral structure, the service involves both choral and preaching components. Luther's goal was to highlight preaching, as well as the sacrament. The service uses various hymns, some of which were written by Luther.
Pre-service music begins at 7 p.m., provided by University Organist David Crean and the Wittenberg Handbell Choir, directed by Professor Emerita of Music Trudy Faber. The Wittenberg Choir, director by Assistant Professor of Music Jimmy Shepherd, will provide special music during the service, along with the Handbell Choir.
Tune earned his bachelor's degree in English from the University of California-Riverside and a pair of master's degrees from Luther Seminary in St. Paul, Minn. He went on to Washington, D.C., to earn his Ph.D. in historical theology from Catholic University of America. He also spent a year working as an intern with a congregation in Singapore.
He and his wife, Matevia Endowed University Pastor Rachel Tune, lead Sunday worship and weekday chapel at Wittenberg, and they work with a variety of campus ministry groups while also providing pastoral care to the Wittenberg community.
In its 31st year, the Wittenberg Series continues to bring distinguished lecturers and performing artists of national and international prominence to the Wittenberg campus and Springfield community. To make special arrangements, reserve a Series poster, or become a friend of the Wittenberg Series, call 937-206-3539 or send an email to jfox@wittenberg.edu.
Written by: Jenny Klose '15
Community Events
University News
Religion
Wittenberg Holds Festival Choral Eucharist For Reformation Oct. 27