Published Oct. 17, 2013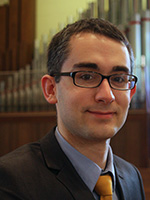 University Organist David Crean
Springfield, Ohio – Wittenberg University's School of Community Education (SCE) is offering a new course titled "An Exploration of Classical Music" that features instruction by University Organist David Crean on Wednesday mornings, beginning Oct. 30.
The four-session, non-credit course will meet from 10 a.m.-11:30 a.m. The first three sessions will take place in Room 305 Krieg Hall, and the final session will be in Weaver Chapel. The cost is $75, and light refreshments will be served.
The first session is an introduction to musical concepts, including rhythm, pitch, meter, key and texture. In sessions two and three, Crean will explore classical music history through 1830 and 1830 to present day illustrated by recorded examples. The fourth session will move to Weaver Chapel for an organ recital that traces musical developments.
Crean is a native of New York and a doctoral candidate at the Juilliard School, where he previously served as an adjunct faculty member. He holds degrees from Oberlin Conservatory and the University of Iowa. Crean has performed throughout the United States, and in June 2012 he made his international debut during a 10-day tour of Australia.
An avid writer, Crean has supplied liner notes for a Grammy-winning CD. He serves as a reviewer for Notes: the Journal of the Music Library Association, focusing on publications related to the organ, and his articles have appeared in The American Organist.
To register for the course, call 937-327-7012. To learn more about Wittenberg's SCE and everything it has to offer, log on to http://www4.wittenberg.edu/administration/school_of_community_education/.
Written By: Ryan Maurer
School Of Community Education Offers Course Exploring Classical Music