Published Oct. 17, 2013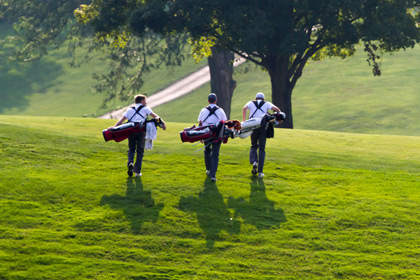 Springfield, Ohio – After a tremendous fall season that included top-three finishes in all five tournaments in which it entered, the Wittenberg University men's golf team has been voted No. 1 in the nation in a poll published by Golf World Magazine for the first time ever.
Golf World has been publishing a poll for NCAA Division III since 2006, and the Tigers have appeared in the rankings regularly over the last five years. However, Wittenberg's ascension to the top spot – which the Tigers share with Claremont-Mudd-Scripps – is believed to be a first for the program, including polls that existed prior to 2006.
Coming off a season that ended with a 13th-place finish in the 2013 NCAA Division III Tournament, Wittenberg started the 2013-14 season ranked 11th in the country and moved up to ninth in the second Golf World poll in late September. Since then, the Tigers rallied for a victory at the prestigious Gordin Classic at Columbus Country Club and then captured a 27-stroke victory at the DePauw Small College Classic.
Wittenberg is tied atop the poll with 373 total points, although Claremont-Mudd-Scripps received three more first-place votes. Illinois Wesleyan ranks third, followed by Guilford and St. John Fisher to round out the top five. Statistically, Claremont-Mudd-Scripps leads the nation in scoring average at 73.00, with Wittenberg right behind at 74.18.
Individually, five different Wittenberg players have recorded a top-10 finish through the first half of the 2013-14 season, led by junior Jared Wissinger (Hilliard, Ohio/Davidson) and senior Ben Hogenkamp (Minster, Ohio/Minster) with three such finishes in the first five tournaments. Wissinger was the medalist at DePauw, a week after junior John Chaney (Shaker Heights, Ohio/Gilmour Academy) picked up first-place honors for his play at the Gordin Classic.
While Wittenberg's men continue to climb the national charts, the Tiger women also just completed a successful fall season. Wittenberg placed in the top five in all five fall tournaments, highlighted by a second-place finish at the DePauw Small College Classic. The Tigers now rank 16th in Golf World's NCAA Division III poll.
Both teams will resume competition in March 2014 at the Taylor-Made Adidas Intercollegiate at Cotton Dike Course in Dataw Island, SC.
Written By: Ryan Maurer
Photo By: Erin Pence
Student Success
University News
National News & Rankings
Wittenberg Men's Golf Ascends To No. 1 National Ranking