Published Oct. 21, 2013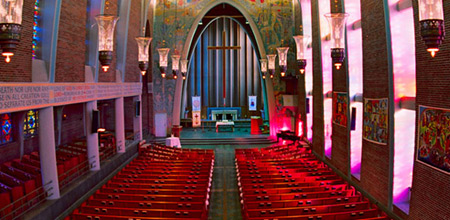 Wittenberg's Weaver Chapel will come alive with the sounds of an organ recital by David Crean on Saturday, Nov. 2.
Springfield, Ohio — Wittenberg University will introduce new University Organist and Adjunct Instructor of Music David Crean with a faculty artist recital at 7:30 p.m. Saturday, Nov. 2, in Weaver Chapel.
Crean will perform Felix Mendelssohn's Sonata in D Minor, Henry Martin's Prelude and Fugue in E minor, Alexandre Guilmant's Sonata No. 1 in D minor, in addition to several works by Johann Sebastian Bach. The performance is presented free and open to the public.
Crean is a doctoral candidate at the Juilliard School in New York, where he served as an adjunct faculty member before joining Wittenberg's faculty in August 2013. He earned a B.M. in organ and a B.A. in politics from Oberlin Conservatory, and he earned a M.M. from the University of Iowa.
Crean's performances throughout the United States have been highly praised, and he made his international debut in June 2012 with a 10-day tour of Australia, featuring performances in Sydney and Bowral. Most recently, he served as a guest instructor for the 2013 Baylor University Summer Organ Academy in Texas, performed the American premiere of Marian Sawa's Ecce Lignum Crucis at Juilliard's acclaimed Focus! Festival, and presented a dedicatory recital on a new organ in upstate New York.
A three-time American Guild of Organists scholarship winner and an avid writer, Crean supplied liner notes for Paul Jacobs's Grammy-winning recording of Messiaen's Livre du Saint-Sacrement. He has also written articles for The American Organist and is an occasional reviewer for Notes: Quarterly Journal of the Music Library Association, focusing on publications related to the organ. In Sept. 2013, he was a featured performer on a broadcast of Pipedreams, a nationally syndicated radio program of American Public Media with music for the pipe organ. His performance was recorded live in Alice Tully Hall, Lincoln Center.
Written By: Leigh Hall
Community Events
Faculty Excellence
Music
New Organist David Crean To Present Faculty Artist Recital Nov. 2