Published Nov. 1, 2013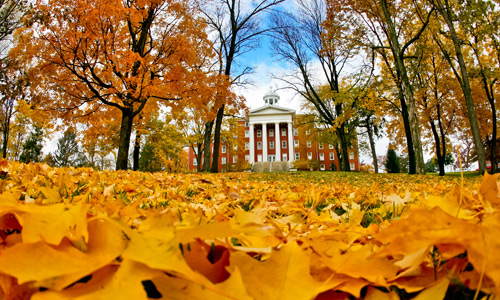 Springfield, Ohio – For the second year in a row, Wittenberg will freeze its tuition and fees, a decision that was approved by the university's Board of Directors during its fall meeting.
Wittenberg's tuition will remain at 2012-2013 levels for all students, while the university continues to provide more than $35 million in scholarships and financial assistance. Currently, more than 95 percent of students attending Wittenberg receive financial support, and the amount of grant students receive from Wittenberg varies based on the results of the FAFSA form.
"By having a zero percent increase, Wittenberg is actually better able to provide the financial support our students and families need, while also continuing to ensure that students graduate in four years compared to the five or six years on average it takes at some flagship public institutions," said Randy Green, Wittenberg's executive director of financial aid and president of the Ohio Association of Student Financial Aid Administrators.
"We want to get our students into our active, engaged learning environment and then out the door in four, so they can begin to make their unique impact on the world," Green said.
Founded in 1845, Wittenberg University is dedicated to intellectual inquiry and wholeness of person within a diverse residential community. Reflecting its Lutheran heritage, Wittenberg challenges students to become responsible global citizens, to discover their callings, and to lead personal, professional and civic lives of creativity, service, compassion and integrity.
Wittenberg offers more than 60 majors, minors and special programs and has been ranked in the top 20 nationally the last two years in five categories: Most Accessible Professors (2013) Best Classroom Experience (2011), Professors Get High Marks (2011, 2010), Campus Beauty (2010) and Involvement in Intramurals (2010) by The Princeton Review. The university also boasts the highest number of Ohio Professor of the Year recipients among four-year institutions in the state and is recognized as one of the nation's top producers of Fulbright Scholars among bachelor's institutions, according to The Chronicle of Higher Education. Seventy percent of Wittenberg graduates pursue post-graduate study within five years of graduation, and all students participate in community service and leadership development.
Wittenberg athletic teams have the most wins in NCAA Division III history in football and men's basketball, including eight national titles. Tiger teams have won 80 conference crowns, making the university a leader in the North Coast Athletic Conference and a national-level competitor. In 2011, the Tiger volleyball team captured the national championship, marking the first such achievement in a women's sport at Wittenberg. Four former Tigers are enshrined in the National College Football Hall of Fame. For more on Wittenberg, visit www.wittenberg.edu.
Written By: Ryan Maurer
Wittenberg's 2014-2015 Remains Steady