Published Nov. 5, 2013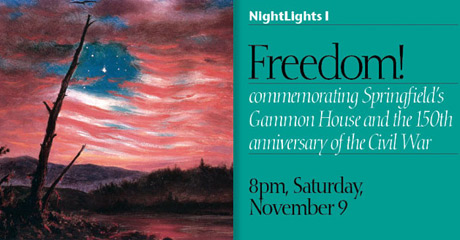 Springfield, Ohio — One of Clark County's premier cultural institutions, the Springfield Symphony Orchestra (SSO), and one of America's finest liberal arts institutions, Wittenberg University, are once again collaborating to celebrate the Wittenberg Night at the Symphony on Saturday, Nov. 9.
Wittenberg Night at the Symphony was designed to introduce more members of the Wittenberg community to the SSO, which is celebrating its 70th year of high-quality entertainment. The concert will take place at the Clark State Performing Arts Center, 300 South Fountain Ave.
The SSO will present a program titled "Freedom," commemorating Springfield's Gammon House, a part of the Underground Railroad, and the 150th anniversary of the conclusion of the Civil War. The concert, conducted by SSO Music Director Peter Stafford Wilson, will also feature the Springfield Symphony Chorale, directed by Wittenberg Adjunct Instructor of Music Basil Fett, and the Now Device with a multimedia presentation.
Musical selections will include The Star Spangled Banner, Battle Hymn of the Republic and Aaron Copland's Lincoln Portrait, in addition to selected spirituals.
Prior to the SSO performance, Wittenberg's IMANI Gospel Choir will provide pre-concert music in the lobby of the Clark State Performing Arts Center, starting at 7:15 p.m. IMANI's director, Kent Brooks, has prepared an arrangement of the Civil War song Hoist Up the Flag for the SSO and Chorale.
In addition, Professor Emeritus of Theatre and Dance Steve Reynolds has written a documentary drama that incorporates Fett's chorale direction and Brooks' musical arrangement. Reynolds' original work For the Sake of Freedom will be read by Springfield News-Sun writer Tom Stafford, Wittenberg class of 1976, during the concert.
The Springfield Symphony Orchestra was founded in 1943 and performed its first complete concert in 1944 at Central Methodist Church in Springfield. The SSO now presents more than 90 events each year, including a six-concert subscription series, small ensemble visits to area schools, Concerts for Young People, the Springfield Youth Symphony and Springfield Youth String Ensemble, free outreach performances and two fundraisers. The orchestra also plays concerts each summer as part of the Summer Arts Festival, which was created in 1967 to provide community activities headlined by local arts organizations during their annual summer offseason.
Special ticket prices have been extended to members of the Wittenberg community. For more information, log on to http://www.springfieldsym.org or call the Clark State Performing Arts Center box office at (937) 328-3874.
Written By: Ryan Maurer
Community Events
University News
Arts & Culture
Music
Wittenberg Night At The Symphony Takes Place Nov. 9