Published Nov. 13, 2013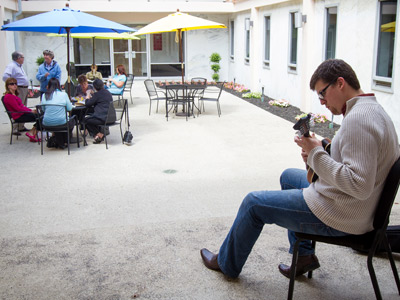 Springfield, Ohio – Thanks to the generous support of the Wittenberg community, Krieg Hall, home of the university's widely acclaimed Department of Music, now features a newly renovated courtyard.
Corwin Georges, professor and chair of the music department, said students had for some time expressed interest in using the courtyard as a gathering space and performance site. During the summer months in 2013, a gift from an anonymous benefactor led the university's physical plant staff members to begin checking out the courtyard's electrical and water systems. Wittenberg then contracted with individuals and companies, including alumnus Plato Pavlatos' C&N Contractors, Inc., to complete power washing, cement repair and painting.
Members of Wittmen Crew, the university's all-male a cappella singing group, contributed to the project by cleaning the courtyard, a space where they hope to perform concerts in the future. Linda Himes, coordinator of alumni and parent engagement & event planning, Nuggie Libecap, administrative assistant of the department of theatre and dance, Melanie Kern, administrative assistant of the department of music, and music major Bethany MacMillan, class of 2015 from Brunswick, Ohio, provided landscape design by weeding, planting and mulching the flower beds. Professor of Music Dan Kazez helped move and assemble tables and chairs.
The courtyard, which is visible from the building's hallways, studios and practice rooms, features a raised stage, courtyard lighting, marble walls with bronze plaques, which were a gift from the senior class of 1966, and colorful plantings that will change with the seasons.
"The refurbished courtyard provides our students with another type of performance venue and contributes to developing their adaptability as artists," Georges said.
Originally designed as a performance space, the courtyard was put to good use during the renovation period as students and instructors involved in the Bayley Music Camp utilized the space for performances. Georges and others in the Department of Music hope that the renovation will encourage other campus groups to visit Krieg Hall and host events in the courtyard.
Written By: Leigh Hall
University Community Enjoys Renovated Krieg Hall Courtyard