Published Nov. 13, 2013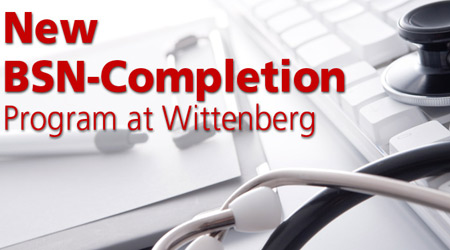 Springfield, Ohio - The Wittenberg University School of Community Education (SCE) is proud to announce its recent addition of the RN to BSN program. The program builds on initial nursing preparation with course work to enhance professional development, prepare students for a broader scope of practice, and provide a better understanding of the cultural, political, economic, and social issues that affect patients and influence care delivery.
Program completion averages 24 months. Scheduling and a blended online and in-classroom course structure allows students to complete the program at their own pace.
Students fulfill clinical requirements through project-based learning experiences, and all courses are aligned with AACN BSN Essentials, including QSEN principles.
SCE Dean Thomas Taylor calls this "the most significant curricular development at Wittenberg in a generation. Hundreds of nurses earned the BSN at Wittenberg from the 1930s to the 1970s. This new program revises that heritage and provides a much needed educational service to our local community."
The program's head, Director of Nursing Joyce Zurmehly, Ph.D., notes that according to the American Association of Colleges of Nursing, "graduates of entry level baccalaureate (BSN) and master's nursing programs [are] much more likely to receive job offers upon graduation."
RN to baccalaureate programs are growing in importance as many professional practice settings, including Magnet hospitals and academic health centers, now require or prefer the baccalaureate degree for specific nursing roles.
Baccalaureate-prepared nurses are also more likely to report higher job satisfaction scores in relation to opportunities for growth, and to remain in practice longer than others.
Visit wittenberg.edu/sce for additional information on flexible programs offered to traditional and non-traditional students seeking advancement in their career.
Wittenberg Offers BSN Completion Program For Registered Nurses