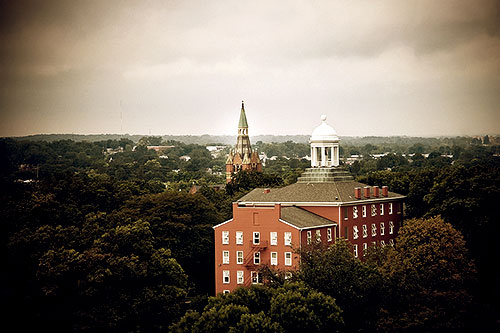 Springfield, Ohio — The Ohio Historic Preservation Advisory Board has recommended that Wittenberg University be listed on the National Register of Historic Places. It was announced today following a meeting of the board in Columbus.
"We are pleased that our campus received this recommendation, as it is a testament to our ongoing efforts to preserve Wittenberg's history and historic ties to Springfield," said Rob Munson, vice president for finance and administration.
The board has recommended to Ohio's State Historic Preservation Officer, Burt Logan, that Wittenberg's nomination be forwarded to the Keeper of the National Register of Historic Places for consideration. The process for being officially listed on the register may take three to four months.
The proposed Wittenberg University Historic District encompasses much of the Wittenberg campus and 28 buildings on it, 24 of which are considered to contribute to the significance of the proposed district. One building, Myers Hall, is already listed on the National Register, having been added to it in 1975.
The proposed historic district would add the campus itself and many campus landmarks to the National Register, among them Recitation Hall, Zimmerman Hall, Carnegie Hall, Blair Hall, Koch Hall, Woodlawn Hall, Weaver Chapel and Weaver Observatory.
The 17-member board is appointed by the governor to advise the Ohio Historical Society and the state on historic preservation matters. It includes professionals in history, architecture, archaeology and other historic preservation related disciplines as well as citizen members. The board meets four times each year to consider proposed Ohio nominations to the National Register of Historic Places and conduct other business.
A nationally ranked university for the liberal arts and sciences affiliated with the Evangelical Lutheran Church in America, Wittenberg University has repeatedly been ranked throughout the years by the Princeton Review for the quality of its teaching and faculty, including 11th in the nation for "Best Classroom Experience" and 15th in the category "Professors Get High Marks" in the 2011 edition of Princeton's annual Best Colleges guide. Most recently, Wittenberg earned the No. 4 spot in the category of "Most Accessible Professors."
Additionally, The Chronicle of Higher Education named Wittenberg one of the nation's top producers of Fulbright Scholars among bachelor degree-granting institutions in 2010. The university has also been recognized nationally for excellence in service and athletics.
Written By: Seth Iiames
Wittenberg University Recommended for National Historic Registry