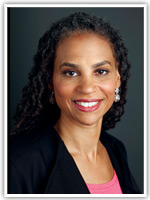 Springfield, Ohio — As the nation remembers one of the foremost Civil Rights leaders in history, Wittenberg University holds its annual Wittenberg Series-sponsored Martin Luther King Jr. Commemorative Convocation 11 a.m. Monday, Jan. 20, in Weaver Chapel. The featured speaker is the founder and president of the Center for Social Inclusion, Maya Wiley.
A civil rights attorney and policy advocate for racial justice programs in the U.S. and South Africa, Wiley founded the Center for Social Inclusion, an organization that works to identify structural racial inequality and affect policy change for a more fair distribution of resources.
Before founding the Center, Wiley served as a senior advisor on race and poverty to the Director of U.S. Programs of the Open Society Institute and assisted in developing South Africa's Criminal Justice Initiative. She also worked for the American Civil Liberties Union National Legal Department, in the Poverty and Justice Program of the NAACP Legal Defense and Educational Fund, Inc. and in the Civil Division of the U.S. Attorney's Office for the Southern District of New York. Wiley served on the Board of Directors of Human Rights Watch, the Institute on Race and Poverty at the University of Minnesota School of Law and the Council on Foreign Relations, and she is the former chair of the Tides Network Board of Directors.
A contributing author to the Joint Center for Political and Economic Studies 2012 Focus magazine, the 2012 Philanthropic Initiative for Racial Equity's (PRE) Critical Issues Forum, Vol. 4, the National Urban League's 2006 State of Black America Report, and "Growing Smarter: Achieving Livable Communities, Environmental Justice and Regional Equity" from the MIT Press, Wiley provided insight on race and civic engagement for the book "Beyond Zuccotti Park: Freedom of Assembly and the Occupation of Public Space" and has been a featured guest and panelist on MSNBC political commentary programs.
Wiley was named a NY Moves magazine Power Woman in 2009 and one of the "20 Leading Black Women Social Activists Advocating Change" by The Root.com in 2011. She holds a J.D. from Columbia University School of Law and a bachelor's degree in Psychology from Dartmouth.
Following the convocation, Wiley will attend a question-and-answer session at 2 p.m. in room 105 of the Joseph C. Shouvlin Center for Lifelong Learning, 737 N. Fountain Ave.
Established prior to the 1989-90 school year, the Martin Luther King Jr. Commemorative Convocation features an academic procession with faculty in full regalia and as all Wittenberg Series events, is free and open to the public.
In its 31st year, the Wittenberg Series continues to bring distinguished lecturers and performing artists of national and international prominence to the Wittenberg campus and Springfield community. To make special arrangements, reserve a Series poster, or become a friend of the Wittenberg Series, call 937-206-3539 or send an email to jfox@wittenberg.edu.
Written By: Jenny Klose '15
Publish Date:
Friday, December 20, 2013