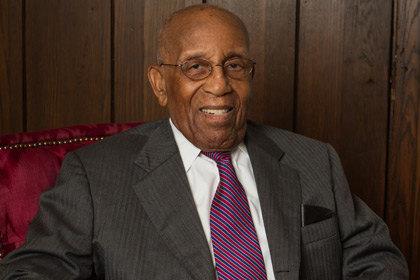 SPRINGFIELD, Ohio - When the Hon. William A. McClain '34 received Wittenberg's Medal of Honor during the university's 2013 Honors Convocation, the Wittenberg community paused to celebrate a career that spanned more than six decades. Following his death on Feb. 4, the community now pauses to celebrate the life of one of its most accomplished alumni.
"We are deeply saddened to learn of the passing of Judge McClain," said President Laurie M. Joyner. "Throughout his life, he inspired generations of colleagues, students, peers, friends and acquaintances to use their own lives to make a difference. His willingness to go beyond the ordinary, to encourage, to break new ground, and to motivate touched countless individuals, as did his desire to serve humanity and to step up when called upon to do so. His light will be missed at Wittenberg."
McClain blazed a trail for the African American community. In 1951, he became the first African American member of the Cincinnati Bar Association after being denied membership twice. He then became the first African American attorney to serve as city solicitor of a major American city, serving the citizens of Cincinnati from 1963-72. McClain later became the first African American judge of the Hamilton County Common Pleas Court.
In addition to the Wittenberg Medal of Honor, the university's highest non-academic award, McClain also received the Ellis Island Medal of Honor. He was inducted into the Ohio Foundation of Independent Colleges' Hall of Excellence, and earned the International Municipal Lawyers Association Charles S. Rhyne Lifetime Achievement in Municipal Law Award. McClain also received an Army Commendation Award for distinguished service as a first lieutenant with the Judge Advocate General.
In 2004, Wittenberg dedicated the William A. McClain Culture House in his honor. It was re-dedicated in 2012 as the William A. McClain Center for Diversity, housing the offices of the American International Association, Concerned Black Students and the Gay/Straight Alliance. McClain called the dedication a "crowning moment" in his life.
Born on Jan. 11, 1913 in Sanford, N.C., and a 1930 graduate of Springfield High School, McClain was the only African American student in Wittenberg's class of 1934. He was the first African American to win the state and national Intercollegiate Oratorical Associations' contests. Following graduation, McClain went on to earn his law degree from the University of Michigan.
Visitation is from 3 p.m.-6:30 p.m., Wednesday, Feb. 12, and from 10 a.m.-11 a.m. Thursday, Feb. 13, at the Allen Temple AME Church, 7030 Reading Road, Cincinnati, Ohio 45237. The funeral will then take place at 11 a.m. on Thursday at the same location. Arrangements are being handled by Hall and Jordan Funeral Home.
Distinguished Alumnus Leaves Legacy
Celebrating The Life Of The Hon. William A. McClain