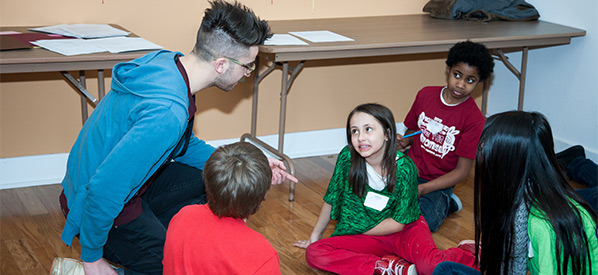 Springfield, Ohio – Inspired by the vision of the Springfield Promise Neighborhood to form a local collaborative, neighborhood-based effort to ensure children are school-ready by kindergarten and college and work-ready by graduation, Wittenberg students focused on service projects with elementary school students during the university's annual Martin Luther King Jr. Day of Service at Wittenberg University and the Springfield Center for the Arts on Feb 1.
The event was organized by Wittenberg's Community Service Program in collaboration with Concerned Black Students, an organization that advocates for African Americans on campus. Wittenberg students, including leaders from a variety of campus organizations, spent about four hours with students from Lincoln and Perrin Woods Elementary School, celebrating the legacy of the slain civil rights leader Martin Luther King Jr.
Inspired by Dr. King's philosophy that "Darkness cannot drive out darkness; only light can do that. Hate cannot drive out hate; only love can do that," the event offered students opportunities to discuss King's legacy of serving as a bright light for thousands of people and to consider how young people can take action for positive change in the world.
The event also included a poetry station in which students wrote about a cause they wanted to stand up for or something they wanted to do to better the world.
"The event is the embodiment of community. Through learning that only light can drive out darkness, we were encouraged to adopt a new mindset as we celebrated Dr. King through a day of service, collaboration and action," said Veronica Vargo, class of 2017 from Columbus, Ohio.
Nearly 40 Wittenberg students participated in the event, which is part of the National Martin Luther King Jr. Day of Service, and is observed the third Monday in January each year. It is a national holiday, created to encourage individuals to view Martin Luther King Jr. Day as a "day on, not a day off."
The Corporation for National and Community Service, which coordinates the service day at the national level, views the event as something that "empowers individuals, strengthens communities, bridges barriers, addresses social problems and moves us closer to Dr. King's vision of 'Beloved Community'." Wittenberg's Community Service Program plans the event after the holiday since the university offers the Martin Luther King Jr. Commemorative Convocation and other events to remember King on the actual holiday.
Wittenberg's efforts in the area of community engagement have been recognized nationally for five consecutive years, 2006-2010, and again in 2012, on the President's Higher Education Community Service Honor Roll for exemplary service efforts.
Community Service
University News
Nearly 40 Wittenberg Students Participate In Day of Service At Wittenberg