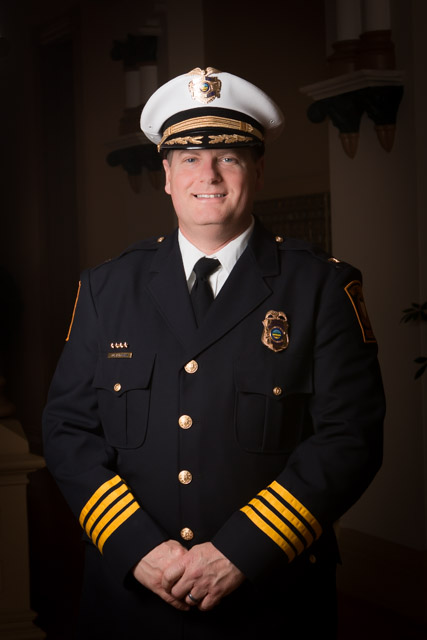 Springfield, Ohio – Wittenberg University welcomed James Hutchins as the university's new chief of police on Monday, March 24. Hutchins began his responsibilities at Wittenberg after an official swearing-in ceremony performed by Vice President for Finance and Administration Robert Munson.
"I look forward to building relationships with students, staff and faculty as well as our surrounding neighbors," Hutchins said. "These relationships will help me understand the expectations and meet the needs of each group."
Bringing more than 24 years of experience in progressive leadership, Hutchins served as Captain and Sub-Division Commander, Uniform Patrol, for the City of Springfield, Ohio Police Division, and also served as a Naval Aircrewman in the United States Navy. 
An active member of the local community, Hutchins has been involved in the DARE program at various levels throughout his career, and he serves as a member of the Clark, Greene and Madison County Mental Health Recovery Board, among others.
Founded in 1845, Wittenberg University has been nationally recognized for its accessible professors, classroom experience and teaching excellence. Known for providing an active, engaged learning environment and reflecting its Lutheran heritage, Wittenberg challenges students to become responsible global citizens, to discover their callings, and to lead personal, professional and civic lives of creativity, service, compassion and integrity. 
Wittenberg Names New Chief Of Police
Former Springfield Police Captain Brings More Than 24 Years Of Experience