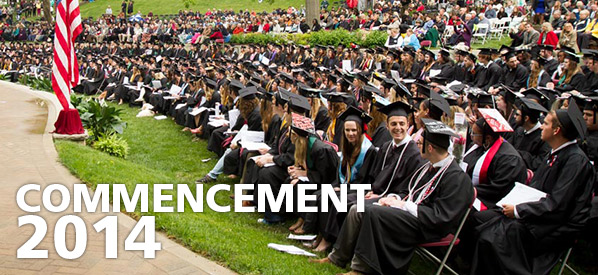 SPRINGFIELD, Ohio — Despite a brief rain shower, Wittenberg's Class of 2014 allowed nothing to dampen its collective spirit as the university celebrated its 169th Commencement exercises in front of an enthusiastic, standing-room-only crowd in idyllic Commencement Hollow.
University President Laurie Joyner led the Commencement celebration, welcoming the 400 members of the Class of 2014 into the prestigious ranks of Wittenberg alumni. She also introduced three distinguished guests, the 2014 Commencement speaker, Olympic Gold Medalist and award-winning sports journalist Donna de Varona, William Steinbrink '64, chair of Wittenberg's Board of Directors from 2005-2008 and the university's interim president in 2004-2005, and nationally recognized composer and organist Robert Hobby '85.
Joyner welcomed the graduates and their invited guests to the ceremony, while making special mention of the parents in attendance. They were invited to stand and were recognized by the assembled crowd with a thunderous ovation.
She then praised the Wittenberg faculty before saluting members of the Class of 2014.
"Wittenberg prides itself on an active, engaged learning environment," Joyner said. She then asked the class to engage in a brief exercise.
"Close your eyes and think about the one person, place, thing or memory that you will remember most about Wittenberg…Your answers represent the breadth and depth of the Wittenberg experience," she said.
The Class of 2014 is comprised of 232 females and 168 males, with biology, business, communication, education, English and psychology representing the most popular majors.
Twenty-eight states and seven countries outside of the United States were represented within the graduating class. The Bachelor of Arts, Bachelor of Fine Arts, Bachelor of Science, and Bachelor of Music Education, in addition to Master of Arts in Education were awarded in the ceremony.
"You have each been changed in your own unique way by Wittenberg…You each have shared memories that connect you forever to this very special place," Joyner said. She then added a piece of advice for the graduating class. "Along the way life will not always be easy, and there may be times where you are frustrated and simply want to give up. I hope in those moments you will remember what it was about Wittenberg that you just now yelled out."
A total of 117 graduates earned Latin honors in recognition of their exceptional academic pursuits. Fifty-two of them were cum laude (3.5-3.69 grade point average), 21 graduated magna cum laude (3.7-3.79) and 44 graduated summa cum laude (3.8-4.0), including three students who held a perfect 4.0 grade point average: Alec Biehl, Miaja Mikkelsen, and Misty Turner.
Joyner welcomed Senior Class President Ben Longstreth to the podium, who reflected on his time at Wittenberg.
"Because of the choices that the class of 2014 has made at Wittenberg, we have taken this place by storm," Longstreth said. "We have chosen to not only be engaged here, but have a lasting impact."
Longstreth invited the Vice President of the Class of 2014, Adrienne Stout, to the podium to announce the class' gift, the Ann McGree Endowed Scholarship.
"Each year one incoming freshman who demonstrates compassion, kindness and a pride in Wittenberg through his or her admission essay will receive a scholarship to ensure that the care that Ann showed to [Wittenberg] remains," Stout said.
During the awarding of the Wittenberg Medal of Honor, Steinbrink had a chance to address the crowd.
"I came to Wittenberg in 1960, and I moved to Myers Hall and that began my long experience at Wittenberg," Steinbrink said. "I wish you well as you go forward. Wittenberg has prepared you well. I do want you to remember, as you lead your life, that Wittenberg is a part of you."
Wittenberg's commencement address was delivered by de Varona to the 400 graduates.
"To the seniors who are graduating on this now beautiful morning, welcome to this exclusive club for you are now joining an elite group as only some 30 percent of America's youth will have earned a college degree," de Varona said. "The decision to designate yesterday's offering to the Second Harvest Food Bank and Habitat Humanity speaks to your continuing commitment to public service."
A nationally ranked university for the liberal arts and sciences affiliated with the Evangelical Lutheran Church in America, Wittenberg University has repeatedly been ranked throughout the years by the Princeton Review for the quality of its teaching and faculty, including 11th in the nation for "Best Classroom Experience" and 15th in the category "Professors Get High Marks" in the 2011 edition of Princeton's annual Best Colleges guide. Most recently, Wittenberg earned the No. 4 spot in the category of "Most Accessible Professors."
Additionally, The Chronicle of Higher Education named Wittenberg one of the nation's top producers of Fulbright Scholars among bachelor degree-granting institutions in 2010. The university has also been recognized nationally for excellence in service and athletics.
Student Success
Alumni Success
University News
Wittenberg Welcomes 400 Into Ranks Of Wittenberg Alumni